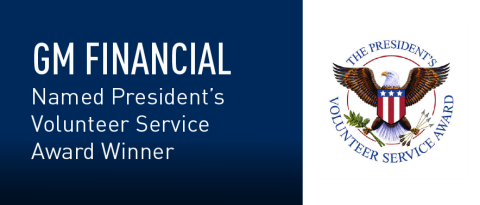 GM Financial Named President's Volunteer Service Award Winner
GM Financial has been awarded the U.S. President's Volunteer Service Award for its commitment to Junior Achievement USA (JA). The company received the award in recognition of its hundreds of employees who volunteered their time to JA in support of its educational initiatives. This is the seventh consecutive year that JA has recognized GM Financial for its volunteer efforts.
The award was presented to the company on Feb. 3 during the nationwide JA Volunteer Summit virtual event, which celebrated corporations that promote JA's mission to inspire and prepare young people to succeed in the global economy.

In the past, GM Financial has received this award for the more than 5,000 hours that company volunteers served during the school year. Due to the coronavirus pandemic, that number was reduced to 1,000 for the 2019-2020 school year. GM Financial team members volunteered to offer students financial literacy education, help with résumés, career readiness training, mentoring and other forms of assistance.
"This honor is an incredible source of pride for us at GM Financial because it highlights the importance of helping to educate, train and mentor the people who will become the business leaders of tomorrow," said Mark Bole, Chief Administrative Officer and President of International Operations for GM Financial. "And, it is an important recognition of the time, effort and expertise that our team members throughout the company have dedicated to this mission since the 1990s." Mark, a longtime and passionate supporter of JA, served for nine years on the board of directors of the Junior Achievement Chapter in Southeast Michigan.
GM Financial employees in Arizona, Michigan, North Carolina and Texas contributed hundreds of hours, despite the pandemic, to assist with this educational outreach.
The U.S. President's Volunteer Service Award is a presidential recognition program created during former President George W. Bush's administration by the President's Council on Service and Civic Participation for people who contribute significant amounts of time for volunteer service. In 2006, Junior Achievement became an official certifying organization for this award because of its reach and national significance. This allows JA to honor corporations in the United States that provide volunteers for JA anywhere in the world. GM Financial employees in Latin America and Chile also volunteer for JA programs.