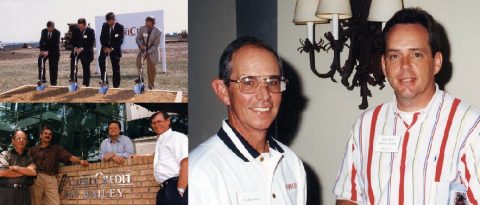 Remembering Ed Esstman: AmeriCredit Visionary and GM Financial "Founding Father"
Before GM Financial became the international auto finance leader it is today, its legacy company was a small business founded in Fort Worth nearly 30 years ago.
Most departments were made up of only one or two team members, contracts were written on a typewriter, memos were sent by mail — not fax — across the country. But in its humble beginnings, the company, then known as AmeriCredit, brought together a small group of people who would forever affect the future of the company.  
Now, decades since its founding, we mourn the passing of one of our earliest and most profoundly influential leaders.
Edward H. Esstman, known to friends and colleagues as Ed, passed away in July 2021 at the age of 80.
During AmeriCredit's formative years, in the early 1990s, Ed established himself as a visionary leader.
When he first met Clifton Morris, founder and former Chief Executive Officer of AmeriCredit, Ed wasted no time laying out plans to grow and develop AmeriCredit into one of the nation's largest nonprime auto lenders.
Ed had previously worked for Mercury Finance, then a leading auto lender, where he learned much of what he knew about the automotive finance industry.
Studying the ideas, tactics and best practices that propelled other auto finance businesses to success, Ed gathered insights from across the industry that informed the concepts and perspectives he would soon bring to AmeriCredit.
"Ed joined us with a specific direction in mind for the company, but he wasn't inflexible. He was a master of blending the best of his ideas with the best of his peers," said Dan Berce, President and CEO of GM Financial, who served as AmeriCredit's Chief Financial Officer at the time.
The initial blueprints Ed and his colleagues created at this budding stage of the company's history were just the beginning for Ed's AmeriCredit career, which would span more than 10 years.
An enduring legacy
Though Ed retired from AmeriCredit in 2004, six years before the company became GM Financial, his influence on the present-day business is impossible to ignore.
"There wouldn't be a GM Financial without Ed," Dan said. "He played a major role in solidifying the backbone of GM Financial in the way that he built up the AmeriCredit business."
From the very structure of the GM Financial credit center network to the many foundational elements that characterize our company culture, there are few institutions left untouched by Ed in some way.
"It was Ed who first said, 'We need to have our people closer to the dealers they serve,'" said Dan. "At the time, we had a more localized model, where all our team members were in one part of the country."
This plan led to the creation of more than 250 "branch" locations throughout the United States, each manned by a Dealer Services team. Simultaneously, and in contrast to the decentralized branch network approach, Ed had the foresight to build a centralized buying center, known as the National Credit Center, which he and the other executives selected current GM Financial President of North America Operations Kyle Birch to oversee.
"The way Ed prioritized credit quality, disciplined buying, and responsible, by-the-books underwriting set the stage for AmeriCredit to become a strong, national brand. His knowledge of the nonprime sector and his approach to day-to-day operations absolutely helped shape the company for years to come," Kyle said.
Today, the same model has evolved, and continues to adapt to changing customer needs. Twelve U.S. states are home to one or more GM Financial credit centers, which each host a few dozen team members, but the system in place remains a direct result of Ed's planning, set in motion more than two decades ago.
Building for the future
Ed knew that by recruiting excellent team members and making the company an excellent place to work, the business would provide excellent service. This understanding motivated Ed to push for better benefits and to create new and innovative talent pipelines.
Enter the Accelerated Training Program, which Ed developed and fostered to quickly train college graduates for management positions at branch locations across the U.S. He was hands-on with the program, too, even driving to universities and personally interviewing candidates.
Several current GM Financial officers are Accelerated Training Program alumni.
And while Ed was most often hard at work in the corporate office, he was among the first to roll up his sleeves and champion AmeriCredit in other ways, too.
Around the year 2000, AmeriCredit's community investment efforts ramped up from local partnerships and smaller volunteer opportunities to a year-round, full-time function of the business.
"When we started working with March of Dimes, Ed bought in right away," said Trish Jones, GM Financial Senior Vice President, Community Investment, who served in several roles at AmeriCredit throughout the company's history.
"One of the earliest events was a cookout, and Ed didn't hesitate to come out and support us. It wasn't long before he'd throw an apron on, fire up a grill and flip hamburgers the whole afternoon."
Eventually, team members would even compete for the opportunity to have lunch with Ed as a community investment fundraising incentive.
"He was so supportive of Community Investment from the very start, and made certain all the branches were involved," Trish said.
The tangible contributions Ed made to AmeriCredit were plentiful, and yet, some would say Ed's impact on the people around him was the greatest thing he left behind.
Larger than life
Throughout his life, Ed was many things: A husband, a father and grandfather, an Army paratrooper and an unrelenting, passionate golfer. But at AmeriCredit, he was universally known as a humble man with a gruff exterior, who was kind and caring just under the surface.
Ed selflessly shared his knowledge with those around him and he was unwavering in his commitment to the success of the company and the empowerment of its people. Above all, he was honest, he was fair and he was widely respected for his leadership.
Below is a small collection of thoughts and reflections on Ed and his legacy from GM Financial leaders who knew him, in their own words:
"He was the real deal. He exceeded every expectation the business had for him, he surpassed every promise he made, and he achieved every goal he put in place. That's a rare thing." – Dan Berce, President and CEO
"Ed was a mentor and friend. He supported me throughout my career in Strategic Alliances and as a leader in the branch network. He was a straight shooter who always led with enthusiasm and an open mind. Bottom line is Ed wanted to win — as an individual, team and company. He was tough but fair, recognizing good work and rewarding people who had done well. He will be missed by those of us who had the pleasure to work beside him throughout his tenure." – Kyle Birch, President North America Operations
"Every once in a while, you are lucky enough to cross paths with someone who'll change your life forever. Ed was one of those people for me. He sold me on the vision, but more importantly, Ed wanted to know me and showed he truly cared about his people. Many of us have Ed to thank for our long and rewarding careers. He would be proud to see how his legacy has shaped our lives." – Mike Urrutia, EVP Dealer Services — Operational Support
"He was the type of leader you would run through a wall for. He always cared about his people first and rewarded good work. I learned a lot from Ed about how to be a leader. I'm going to miss you, Ed." – Jimmy Vance, EVP Chief Pricing and Analytics Officer
"You had to respect him because his work ethic was unparalleled. He knew the business unbelievably well, and he made people feel empowered to work. That's why people wanted to help him achieve his vision. I wouldn't trade my time with Ed for anything." – Trish Jones, SVP Community Investment
"He was a visionary who was so important to the foundations of GM Financial. But I will always be personally grateful to the man who gave me the vote of confidence that propelled me to open a new DFW location, and who had a tremendous impact on my life and career. He will be missed." – Jon Matthews, SVP Customer Experience Administration and Accelerated Training Program alumnus
"He was honest with people, and he had no ego. That's why people respected him. You couldn't argue with him because he was telling you the truth, even if it was harsh. His style would be hard to duplicate today, and he cared for people in a way that you don't always see anymore." – Grant Helmer, SVP Dealer Services – Funding and Accelerated Training Program alumnus
"It's hard to describe his impact because he did so much for so many. He had high expectations and would challenge you but expected you to do well and helped you along the way. He was loving and caring, and he would've been there for you anytime you needed him, even after retirement. He was such a unique pleasure to work with." – Terri Porterfield, VP Community Investment
"Ed provided opportunities to everyone he recognized as giving their best. Because Ed saw something in me all those years ago, I have had an amazing career that's lasted 26 years. I have been able to establish great friendships and special bonds with so many that started in the days of AmeriCredit. I owe Ed my career. He will always hold a special place in my heart, and I will truly miss him." – Tammie Jones, IT Program Manager