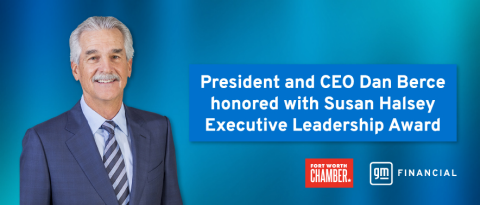 President and CEO Dan Berce Honored with Susan Halsey Leadership Award
On Thursday, March 30, the Fort Worth Chamber of Commerce presented GM Financial President and CEO Dan Berce with the 2023 Susan Halsey Executive Leadership Award.
"Dan has been instrumental in leading GM Financial into a global organization with more than 9,000 team members," said Fort Worth Chamber Chair Rosa Navejar in a press release. "His strong commitment and leadership have helped grow GM Financial to over $100 billion in assets."
The Susan Halsey Award recognizes business leadership excellence in the Fort Worth, Texas, metropolitan area and has commemorated presidents, principals and chief executive officers for nearly a decade.
Sponsored by Jackson Walker law firm, the award specifically celebrates leaders for devoting time and energy to strengthen and transform their organizations. It was created as a tribute to the late Susan Halsey, a formidable attorney and businesswoman who served as Chair for the Fort Worth Chamber in 2013.
"I could think of no better recipient of the Susan Halsey Executive Leadership Award than Dan Berce," said Jay Rutherford, managing partner of Jackson Walker's Fort Worth office.
"Susan was a trailblazer in the legal profession. Having known and worked with Dan for more than 25 years, I have witnessed firsthand how he exemplifies the leadership qualities that Susan Halsey demonstrated within our firm and the greater Fort Worth community," he said.
According to the Fort Worth Chamber, award winners demonstrate the ability to actively support advancement, create a vision and inspire others, establish a positive image for his or her business while leading it to higher levels of success, encourage innovation and risk-taking among employees, give back to the community, and provide mentorship opportunities.
"Susan Halsey was a transformative leader for Fort Worth, and I'm humbled to be linked to her legacy," said Dan Berce. "Fort Worth has always been our company's home, and we're so fortunate to be part of the story of this city and its incredible business community."
"This award is not a reflection of me but a testament to the quality of our culture, the strength of our leaders and the hard work of our more than 9,000 team members around the globe," Dan said.