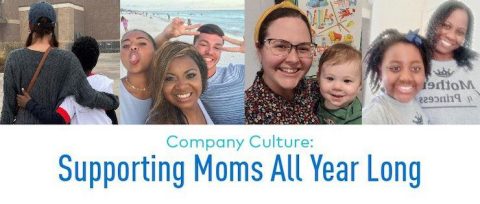 Company Culture: Supporting Moms All Year Long
Although Mother's Day is typically recognized on the second Sunday in May, there's something to be said for honoring moms all year long. Since the start of the COVID-19 pandemic in 2020, we've all seen a shift in how we prioritize our home and family against the demands of our jobs. When I was preparing for my son's arrival, I received so much support from not only my manager, but also my fellow work moms.
They shared their wisdom about navigating work schedules and relationship dynamics, what to look for when touring day cares, plus a lot more. When I was on leave, they checked in on me, and when I returned, they shared encouraging words in our Microsoft Teams chats as I struggled to balance breastfeeding and work.
It's amazing to have work friends who are such champions for my personal and professional success. But it's not surprising. That's the kind of culture GM Financial fosters.
Don't just take my word for it. Here are stories from three amazing working moms sharing their own experiences working at GM Financial and how they have felt supported by its culture and fellow moms.
Flexibility and support
When Qiana Thomas, née Greene, came to work at GM Financial four years ago, she was looking for a place where she could juggle being a single mom with a successful career.
Her daughter, Kaitlin, is a tuba player in the high school band. Qiana loves being able to see her perform on Fridays during the football season and attend her softball games in the spring.
"I've always felt supported by my leaders, most of whom are parents as well. They understand what it means to be a mom," says Qiana, a Marketing Product Manager. "I've had the flexibility I needed to be there for my daughter and be present in her life, which is great!"
Since starting her GM Financial journey, Qiana has married and become mom to her son, Colin, who's finishing up a degree at Texas Tech.
"When he got in, everyone was so excited for us! It was heartwarming," Qiana says.
She loves that GM Financial always puts her family first. At the beginning of the pandemic, the grandmother who helped raise Qiana got COVID-19. She was overwhelmed with the outpouring of support from across the organization as she helped her grandmother heal.
"I spent two months living with my grandmother as her caregiver, while continuing to work remotely from her home in Corpus Christi. It was nerve-wracking, but the love I received only made me love everyone here even more than I did before," she says.
Encouragement and strength
For Dana Crumbliss, a Marketing Product Manager, starting her two-year term on the Diversity, Equity and Inclusion (DE&I) Council in 2020 couldn't have come at a better time in her life.
Dana, who is white, adopted her 9-year-old son, Apollo, who is Black, from Africa.
"2020 was so hard, and DE&I was such a comfort," she says. "I found support in other adoptive parents and Black council members, who gave me the encouragement and strength I needed to be the best possible parent to my son."
She's grateful that GM Financial has created an open forum where team members can speak to one another about race, equality and parenthood.
"I was able to express my fears and concerns about what was happening in the world and how it was affecting and going to affect my son, and I needed that," Dana says. "I am raising a Black boy in America, and I needed the advice of those around me. I wasn't getting that kind of support anywhere else in my life."
In addition to the emotional strength and practical advice she receives from her fellow DE&I council members, Dana also feels supported as a mom by her team.
"Adoption itself carries with it some trauma," she says. "My son suffers from a form of PTSD, and this means sometimes I have to leave work at the drop of a hat when he's having a bad day. My team's always been understanding, and I don't take that for granted."
Sharing and caring
Tiffany White will tell you her officemate is a lot like her — super outgoing and smart. She also happens to be her 7-year-old daughter, Taryn.
It's been cool for her and her daughter to get glimpses into each other's lives as they learned how to navigate virtual school and working from home, says Tiffany, an HR Manager.
"I get to see how she interacts with her classmates and teachers and what kind of question she raises her hand to answer," Tiffany says. "On the flip side, she can see me in my work element as I present in meetings and hold conversations with mid- to senior-level leaders. She gets to hear me flex my vocabulary and hear how mommy talks to people outside of our family."
Having the space to learn how to adapt is a blessing, she says.
"Even before the pandemic, I always felt like I could take a few extra minutes in the morning to walk Taryn into school before driving into work," Tiffany says. "It's nice not to have to compromise that. And now working from home, it's nothing for me to have Taryn come over and say, 'Hi' to team members on camera. She's even on a first-name basis with some of them!"
That camaraderie with team members is one of the things that Tiffany says makes her feel like she can bring her whole self to work, a feeling she tries to pass on to her peers in the Working Parents Employee Resource Group (ERG) at her office. The ERG launched just before everyone started working from home last year.
"It's really cool that our company provides something like this group, where parents can share advice and know they're not alone in facing certain challenges," Tiffany says. "I fall into the trap of feeling that 'I have to do everything,' and the group has been a great place where we can encourage one another to ask for help when we need it."
Celebrate the mothers around you
These three moms are amazing champions for the parents around them. During a time when so many have felt alone and disconnected, it's great to see how we've all grown closer together with our work families.
In celebration of Mother's Day, I encourage you to reach out to the moms in your life to say "thank you" for everything they do.
For more stories like this, visit our DE&I page for the latest posts. And check out our Newsroom to read how GM team members are working to #breakthebias and becoming better allies for women in the workforce.