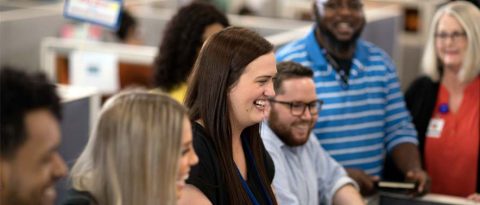 Diversity and Inclusion (D&I) is a widely known and implemented concept in many organizations. However, diversity and inclusion are only two pieces of the puzzle, which is why you'll often now see organizations use Diversity, Equity and Inclusion (DE&I). This may seem like a small addition or simply the use of a buzzword, but, for GM Financial, adding the "E" shows the bigger picture.
What's in a name?
To understand why we added equity to our D&I program name, we need to establish what each piece of the name means:
Diversity — Focuses on who; it describes the variety of individuals or groups categorized by identity characteristics such as geographic roots, education backgrounds, gender, sexual orientation, ethnicity and others.
Equity — Focuses on how; it describes how everyone has the same access and opportunities and how they're treated fairly.
Inclusion — Focuses on what; it describes what's being done to make people feel welcomed, supported and valued.
Equity is the constant mark we measure ourselves against. By focusing on equity, the "how," we're addressing diversity and inclusion with the understanding that not all employees have access to the same resources and can work to rectify that.
Equity is intentional
While the name of the department was D&I from 2015 until 2021, equity was always implied. To move from diversity to inclusion, you need equity, and much like putting DE&I into practice, it needs to be intentional.
"What have I done today to make progress? Did I nurture, coach, mentor or hire? What did I do to make someone feel valued and heard?" Shunda Robinson, Global Vice President of Diversity, Equity and Inclusion at GM Financial, asks these theoretical questions.
She explains that the focus is to get better at the outreach and that being equitable takes an intentional mindset. Like you've heard from childhood, putting yourself in someone else's shoes — considering people other than yourself — can make all the difference.
For example, able-bodied individuals may not consider the troubles someone facing physical challenges may encounter in a workplace, like swiping a badge to access a door, or the ease or effort needed to move around cubicles in workspaces. Being equitable is providing accessibility for all, not only as they navigate the workspace but also as they navigate their careers.
Opening doors for others and ensuring our company is consciously empathetic is the responsibility of everyone at GM Financial. This mindset and approach comes from the top down; it's part of our efforts — as part of General Motors — to become the most inclusive organization in the world.
What's being done?
One specific example of putting the "E" into practice comes from enhancement to our collaboration tools. Collaboration tools that offer web chat and other capabilities are a great help, but for many who are hearing impaired, meetings can still be less accessible.  
That's why integrating closed captioning to live meetings was an intentional move. Additionally, adding in live translations in Spanish and Brazilian Portuguese to those closed captions was crucial for providing fairness and equity to our international team members.
While this is one specific example, there are many ways in which GM Financial is striving to create a more diverse, inclusive and equitable workplace by offering programs and resources like:
mentorships,
required web trainings, and
retooling competencies and expectations to align directly with DE&I efforts throughout the company.
To learn more about what's being done and what changes are still to come on our DE&I journey, you can visit our DE&I page or download the GM Financial 2021 DE&I Annual Report.