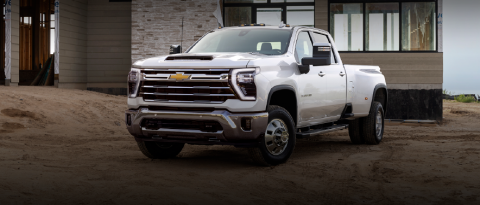 Cycling Commercial Vehicles: A Surprising Way to Save Money
How long should you keep a commercial vehicle on the road? The conventional wisdom goes something like, "until the wheels fall off." But the answer may surprise you.
Brian Lockhart, VP of National Sales for Commercial Vehicle Lending at GM Financial, advises business owners and fleet managers to think differently about bringing in new vehicles.
"Running a vehicle past a certain point will likely cost you more in the long term."
According to Brian, it often makes financial sense to replace vehicles sooner rather than later. He recommends a strategy for cycling in new vehicles every three years.
"That's the break-even point, the sweet spot, for saving money on taxes and maintenance."
Maximize depreciation
You already know that your vehicles lose value every year. What you may not know is that depreciation is an expense that can reduce your taxable earnings in the vehicle's first five years.
"You have five years to write off those depreciation losses," Brian says. And because a vehicle is worth more at the beginning of its life, "the highest tax deductions are in the first two to three years."
That means the newer your vehicles are, the more you may be able to deduct at tax time. A three-year cycling strategy can eventually allow you to capitalize on depreciation and potentially pay lower income taxes on your business.
It can also help you maximize another important tax incentive. There is money to be saved when you purchase or lease a new vehicle before the end the year. If you wait until the last minute, you may save on taxes, but if the ideal vehicle isn't available, you could end up with something that doesn't fit your needs.
Minimize maintenance costs
Keeping an older vehicle on the road for longer than three years also means heavier maintenance costs are probably on the way.
"The second half of a vehicle's life is when the big repair bills start showing up," Brian says. Maintenance is especially costly for a business because in addition to repairs, "every hour a vehicle spends in the shop is losing you money."
And the more "second half" vehicles you have in your fleet, the higher those costs are likely to be. But with a three-year cycling strategy, you can build a fleet of "first half" vehicles, minimize maintenance costs and keep your drivers on the road.
Adding new vehicles at the right time can mean lower taxes and maintenance costs for your business. But it also takes a plan. GM Financial has the tools and expertise to help you analyze your fleet and put together a strategy that fits your needs.
In addition to consulting your tax professional, reach out to our experts to discuss a new vehicle purchase or lease for your fleet.