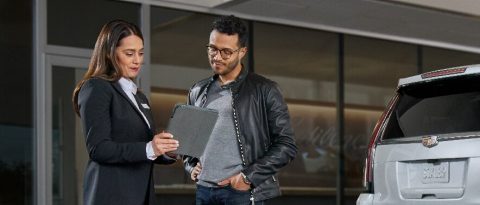 Upgrading to a new vehicle is exciting, but what about your current one? Can you negotiate more for your old car? Will it help you get a deal on your new one? Here are some tips to help you navigate trading in a vehicle.
Know the value of your vehicle. It's always best to start at your originating dealership. They want to keep you as a customer, so they'll work with you on your trade-in. Manufacturers tend to offer loyalty discounts on new vehicles for staying in the same brand family, too. You can also usually estimate how much your vehicle is worth by using tools offered by Kelley Blue Book® or Edmunds®.
Clean your car before you get it appraised. Having a clean car, inside and out, indicates you've taken good care of it and stayed on top of maintenance, which could lead to a higher offer.
Take care of known problems. Tend to any warning lights or small repairs. These little things add up and could leave the dealer offering less money because they know they'll have to pay to fix the wear and damage themselves.
Include all accessories in your vehicle. Accessories make your car more versatile and allow you to personalize your ride. If you bought roof racks or a cargo cover, put them on to potentially increase the value of your trade-in. It's important to have both sets of keys when you trade in the vehicle.
Know your state's tax laws. Trading in your car when you purchase a new one may save you money in taxes compared to selling it on your own. Be sure to review the tax implications in your state if you decide to sell versus trade it in.
Now that you've done your research on trading in, be prepared when you shop for a new vehicle. If the one you're looking for isn't on the lot, consider preordering your next ride.