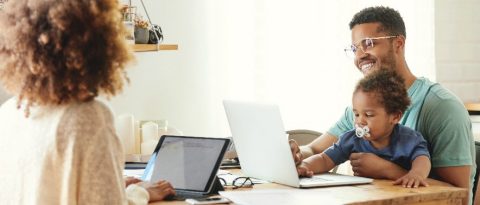 Digital Solutions: 4 Trends in 2020
If you thought 2020 would start like any other year, you were likely caught off guard. I'll admit, I certainly was. The start to the year has brought a shift in the way we live our lives.
While many are making the most of the COVID-19 situation, we've all been called to adapt the way we work, shop and interact with each other. Fortunately, we live in an era where technology helps facilitate these changes. Here are a few notable trends I've observed during the past few months. Share with us the changes you've embraced.
Online Shopping and Delivery
Based on the number of delivery vehicles in the neighborhood, there has certainly been an uptick in people who are opting for convenient home delivery of all kinds: cleaning supplies, groceries, games, entertainment, etc.
Dining out temporarily became a thing of the past but allowed restaurants to adapt. By adopting digital methods of accepting food and drink orders, like online ordering and mobile apps, many restaurants found new customers and relied on curbside and delivery services to ensure customer satisfaction.
For example, I embraced the new way of ordering and paying through an app. Curbside pickup was another option that my favorite Tex-Mex restaurant never offered before. Because I often have three kids buckled into their car seats in the back of my vehicle, I hope they continue this highly convenient service in the future.
Remote Work and Learning
Telecommuting is not a new thing, but for some employers and employees alike, 2020 made it more the norm. It will be hard to say what work post-COVID-19 will look like, but it seems fair to assume there might be a cultural shift to more flexibility in working remotely.
Businesses aren't alone in this either. Many schools, colleges and universities across the country launched and expanded online learning solutions to engage students via video conferencing and digital classroom work.
Finding Answers Online
With more people using online services, businesses are renewing their focus on the customer experience. I, like many of you, don't like waiting too long, even if we're going through unusual circumstances as a society.
In many cases, you can quickly find answers on a website FAQ, or text or chat with customer service without having to wait for a reply. Simply send your message, go on about your day and jump back on when you're notified of a response.
Shop. Click. Drive.
As you can imagine, the pandemic has transformed the car-buying experience as well. 
You can always opt to visit a dealership for the traditional in-person, on-the-lot experience. But since COVID-19 caused a shift in digital adoption, you have more options. General Motors offers a program for each of its brands — Chevrolet, Buick, GMC and Cadillac — that gives you a chance to find your dream car, apply for online credit, work out the deal and if available, arrange delivery of your new vehicle all from the comfort of your home. Check out this Shop. Click. Drive. experience when you're in the market for your next vehicle.
What's Next?
There's no question that with the shift toward digital experiences, solutions like these are more common. The question now is: What new conveniences have you embraced and hope will stick around?