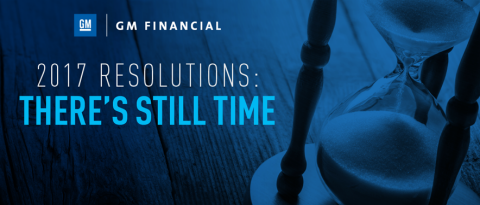 2017 Resolutions: There's still time
Odds are, at least some of your New Year's resolutions have fallen by the wayside. Now is the time to rally! Before you ring in 2018, check in on your goals and see how you can take your finances, well-being and life to the next level.
Start small
Biting off more than you can chew can be discouraging, but taking small steps toward bigger goals gives you more opportunities to celebrate. Think about what small changes you can make that will improve your life. For example, try reading a few pages of a book every night before bed. Or, choose to eat in with family and friends instead of heading to a restaurant. Estimated savings: $10-$50 per meal.
Save a little
Little changes in your financial decisions can have a big impact on your savings overall. Get a head start on 2018 by tweaking your daily routine now. Consider brewing coffee at home or bringing your lunch three days a week. Estimated savings: $5-$30 per week.
Donate your time
The holidays are the ultimate time of giving. If you've been too busy to volunteer until now, head to your favorite charity for a few hours this weekend. Any amount of help makes a huge impact – both for the organization and you.
Get current on your bills
Speaking of holidays: They can be expensive! Preparing to buy gifts now can help you manage bills and avoid headaches over the next few months. Work on getting current on your bills and putting a few dollars a day into a holiday fund. Your future self will thank you. Estimated savings: The cost of falling victim to holiday pricing.
Embrace a gratitude attitude
Be vocal about your appreciation for the people in your life. Don't be afraid to speak up when someone goes out of their way to be helpful, and you may notice a boost in your self-esteem coupled with reduced stress.
The end of the year may be in sight, but it's not too late to make your resolutions happen. Find more tips for making 2017 your best year yet.