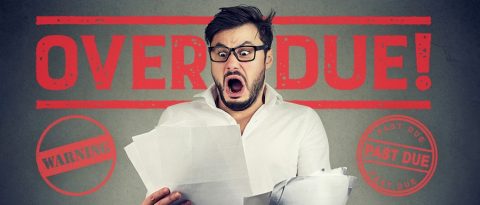 Haunted by Financial Mistakes?
Forget spiders and horror stories: Nothing is scarier than feeling like you have fallen in a financial pitfall.
We put together three more of the scariest stories about money management gone wrong and mistakes to avoid. Afraid you already made one of these financial missteps? We included some tips to help you fight back and improve your situation.
It's an emergency

I never really had a money plan. I knew how much I made and figured I was fine as long as I had enough to cover my bills every month. Then I got into a car accident. My insurance only covered the current value of my car, so I had to figure out how to afford another vehicle on top of all my medical bills. I couldn't work for several weeks, and the expenses got out of control. I'm trying to get my money back on track.
You never know when disaster is around the corner. Protect yourself by building an emergency fund. Some experts recommend keeping six to eight months of living expenses on hand. If you can't spare that much right now, focus on putting $20-$50 into an emergency fund every month. Every little bit will help you afford urgent, unavoidable expenses without draining your savings or going into debt.
Stretched too thin
I was pretty excited about buying my first new car, even though the monthly payments just barely fit in my budget. But I didn't plan for insurance costs. Or gas. Or service and maintenance. Now, my budget is stretched to the absolute limit, and I don't have room for savings or anything fun. I'm worried about how this will affect my financial future.
Monthly payments are just part of financing a new vehicle. You may need to reexamine your budget and find creative ways to reduce nonessential spending.
If you're still in the shopping phase, consider using our payment calculator to test-drive the numbers and applying for prequalified financing. While every situation is unique, a down payment can help lower the overall cost you need to finance and lead to payments that better fit your finances. You will also need room in your budget for oil changes and other maintenance to keep your vehicle running strong. So remember: New vehicles may cost more to insure than older ones, and SUVs and trucks tend to use more fuel and require pricier maintenance than smaller models.
Fraud alert
I'll admit, I was not always as vigilant about my personal information as I should have been. One way or another, hackers got ahold of my information and used it to open a bunch of credit cards in my name. By the time I realized what was happening, the fraudsters had spent thousands of dollars, and my credit was in danger. Fixing this is going to be a long road — and a heck of a headache.
According to the Federal Trade Commission, consumers reported losing more than $3.3 billion to fraud in 2020, up from $1.8 billion in 2019. Fraudsters can get your information in countless ways, including phishing, stealing mail, digging through your trash, guessing passwords, hacking financial institutions or retailers, "skimming" your information from card readers and more. MyFICO.com recommends protecting yourself in the following ways:
Shred: Use a crosscut shredder to destroy documents containing personal information.
Lock: Use complicated passwords or passphrases to lock all of your personal devices.
Secure: Password protect your Wi-Fi at home, and never shop or log in to financial institutions on public Wi-Fi.
MyFICO.com also recommends regularly reviewing your bank accounts and credit reports for suspicious or unfamiliar activity. You can request a free copy of your credit report at annualcreditreport.com.
Don't let your financial missteps or money mistakes haunt you. Download our credit education brochure for tips on turning a horror story into a happy ending.