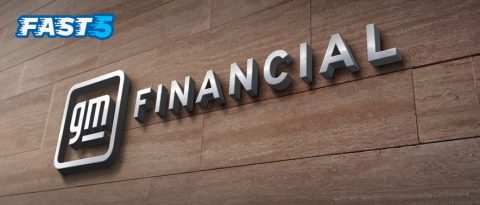 Fast 5: Things You Might Not Know About Us
Fast 5 is a new series highlighting five fun facts you might not have known about GM Financial, General Motors, and GM brands and vehicles.
If you're reading this, you likely know that GM Financial is a provider of auto finance solutions, but do you know how our chatbot Nanci got her name? Or what the gender breakdown of senior leadership looks like? Find out in this edition of our Fast 5!
We have so many resources available. Our success is largely dependent on building strong, lasting relationships with the customers we serve. We do this by providing resources, like financial calculators (including payment, affordability and final installment calculators), car-shopping resources (lease or buy comparison, corporate offers, current GM offers, etc.), financial articles and financial education through our KEYS® Online modules.
Nanci's name derived from the middle of "fiNANCIal." Have you met Nanci? She's our virtual assistant and uses artificial intelligence and machine learning to assist customers contacting us through messaging and call-ins. Reach out with your questions to learn why she's at the heart of one of GM Financial's core values: Customers for Life.
Cultivating a diverse and inclusive culture is a business imperative, not a trend. Diversity, equity and inclusion aren't just keywords for us, but essential for our hiring efforts. A major focus of our efforts is our target of 45‑35‑25, which aspires to see GM Financial have 45% women and 35% professionals of color in senior leadership by 2025. You can see our progress in the Diversity, Equity & Inclusion 2022 Annual Report. Learn more about our culture and opportunities here.
GM Financial is global, regional and local. Though founded in Fort Worth, Texas, GM Financial is global. We offer a wide range of wholesale and retail automotive financing products on three continents and in eight countries. We're meeting our customers in more geographic places than ever before.
Yes, GM Financial is a Millennial! We were founded in 1992 as AmeriCredit Corp, and in 2010, we were acquired by General Motors Company and renamed General Motors Financial Company, Inc., (GM Financial). Those 30-plus years have given us the experience needed to be the best auto financing company in the world. Curious how our business works? Download Inside Track, a road map to understanding our primary operations.