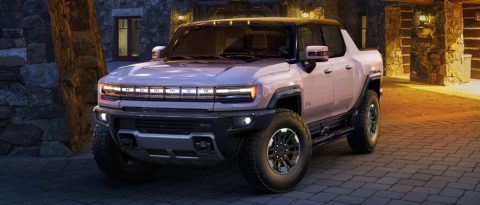 Electric Vehicles: Benefits You Should Know
When GM says, "EVerybody In," they mean everybody. The future of driving is electrified as GM speeds toward phasing out most vehicles with combustion engines by 2035. The benefits of "going electric" are piling up and here are a few reasons to consider getting one of your own.
Goodbye gas stations
Imagine this: It's pouring rain with gusts of wind that send shivers down your spine. You're frantically running errands when you see it: Your fuel gauge is on "E."  Sound familiar? It doesn't have to.
With convenient at-home and on-the-go charging options, you can stay in the comfort of your vehicle without having to brave less than ideal weather conditions. In fact, charging an EV is easier than you might think, even if myths about charging make it seem otherwise.
Lots of apartment complexes and public parking areas offer charging stations, sometimes even free of charge. If you're looking for public charging stations nearby, there are convenient apps to help you find them.
And if at-home charging is your preference, you can choose which station's power level best fits your needs.
Did you know that you may be able to include an at-home charging station in your vehicle financing? Don't forget to talk about charging needs when negotiating financing at the dealership.
Unique driving experience
If you've only ever driven a gas-powered car, you're accustomed to the noises it makes when you start it up and while you drive. Electric cars, however, are among the quietest drives available.
Because they lack the traditional combustion engine mechanisms that cause the noises you hear when driving a nonelectric car, expect to be able to enjoy the silence or audible entertainment more.
And "quiet" doesn't mean you'll sacrifice power. The get-up-and-go of EVs rivals that of much mightier traditional engines, making accelerating that much quicker and smoother.
Fewer trips to the mechanic
Say goodbye to oil changes! All-electric vehicles typically require less maintenance than conventional vehicles for several reasons, such as:
There are fewer fluids (engine oil, coolant, etc.) requiring upkeep
Brake wear is reduced due to regenerative braking
There are fewer moving parts under the hood compared to fuel engines
There's an EV for every lifestyle
Whether you regularly drive kids and pets around or you're flying solo, there's an electric vehicle that will fit your needs.
The all-new Chevrolet Equinox EV is designed with true SUV capability and modern technology. Its sporty, refined package will have walk-up lighting, flush door handles and will get up to a GM-estimated 300-mile range on a full charge. It's engineered to be the total package, made affordable.
Are you looking for something more iconic? The Cadillac LYRIQ is a full-size SUV that will seamlessly integrate into your daily life. With extensive cargo space, smart safety features and an estimated 300 miles per charge, it offers you the flexibility and sophistication you expect from a Cadillac.
If you're ready to commit to an electric vehicle, start by applying for prequalified financing. To learn more, check out these five things you should know about electric cars.