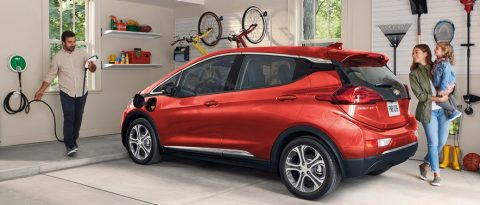 Electric Cars: Debunking Charging Myths
In a world where you charge everything from your watch to your reading device, why wouldn't you charge your vehicle? It's clear that electric cars are the future of driving.
While we've already explained a few things about electric vehicles (EVs), we want to debunk a few myths about EV charging.
Myth: Going electric means less flexibility because charging takes so long.
While charging time isn't universal — because of things like the size of the car and strength of the charging station — it's unfair to say that charging an electric vehicle is less flexible than a gas-powered car.
For instance, you have the ability to choose which method of charging works best for you and your lifestyle. If you're comfortable with planning ahead, you can rely on public charging stations in your area to keep your car moving. Public stations are becoming more popular as the demand for gasless cars increases, and a quick search in your area can show the ones closest to you.
If that seems like more than you're willing to commit to, at-home stations might be a better fit. You can buy or rent a charging station that's installed at your home and simply plug your vehicle in when it's not being used.
Some apartment complexes even have them available for free to residents, which is something worth looking into if you're going electric.
Myth: Charging an electric car is more expensive than buying gas for a fuel-powered one.
While gas prices fluctuate depending on demand, it still can be a large expense for traditional car owners. The total cost of charging your electric car, however, is really up to you.
With flexible charging options and more free public charging stations popping up all the time, you can conceivably drive your EV around for next to nothing. Of course, that requires planning and depends on factors like where you live and how often you drive.
Overall, going electric can actually save you money on transportation.
Myth: You can't do road trips with an electric car.
It really depends on which electric car you have, how far you're going and how much time you have to get there. If you're the proud owner of a Chevrolet Bolt, for example, you can find a lot of helpful information by downloading the myChevrolet app.
There, you can figure out things like your vehicle's current charge, driving conditions and up-to-date weather to determine the most efficient route. It can also help you locate charging stations, including information about whether the station is working and if it's compatible with your vehicle.
Mapping out your journey is more important now than ever. Ideally, you can safely stop in an area to get food to go or somewhere you can do an outdoor activity. Be mindful of social distancing and remember to keep clean masks, hand sanitizer, and disinfectant spray or wipes for any stops along the way.
While it might take extra planning to track your route before departure, there's no reason you can't hit the open roads behind the wheel of a car you can also plug in.
Charging your vehicle might be a far stretch from your gas-powered past (or present) but it doesn't have to hinder your ability to get from Point A to Point B. In fact, it might even make it easier.