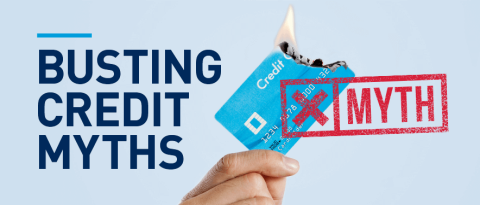 Old myths die hard. When it comes to money matters and tall tales of personal credit, they live even longer. Check out these not-so-serious myths and the truth behind the steps you can take toward better credit.
"My grandma always told me that burning old credit cards is good luck for bumping up your credit score."
The amount of credit you have available can actually help your credit score. Sometimes, it can even benefit you to have more credit.
Many experts recommend you don't use more than 30% of your available credit. The more credit you have — and aren't carrying a balance on — the lower percentage of credit you're using. So, save your matches and focus on paying down credit card debt and keeping your balance lower instead.
"My friend Steve is rich, so he says his credit score is off the charts!"
Tell Steve "congratulations" while also delivering the news that his credit score is high for reasons other than his monthly income. How? Because credit scores are based on established habits and reliability with credit.
Having a higher income can help you be approved for a higher dollar amount of credit, but your interest rates are based on your creditworthiness. Don't get discouraged about your credit status and think it will stay that way until you make and save more money. Instead, focus on paying bills on time, paying down debt and maintaining a good credit mix, and you'll be on the path to contending with Steve on credit score.
"My dad always says buying a car instead of leasing one shows creditors that you mean business, so your credit score goes up when you buy."
There's a prevalent myth that buying a vehicle will help your credit score more than leasing. Dear old Dad is clearly falling victim to this legend.
Honestly, neither option is better than the other: they're just different. Both show up as installment credit on your credit report with the biggest difference being that you're typically financing a larger dollar amount when buying versus leasing. The biggest difference to consider when comparing lease or buy is which fits your budget lifestyle and driving habits, not the impact on your credit score.