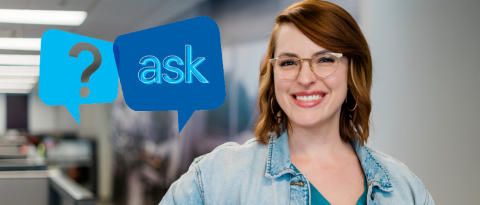 Got Questions? Ask GM Financial
Note: Ask GM Financial is a YouTube series that was launched prior to the COVID-19 situation. Commonly asked questions referred to in this article do not pertain to the virus.
Whether you asked a question on social media, talked on the phone with one of our Customer Experience Advocates or sent us a message, we heard you. And the answers are just a click away with the Ask GM Financial video series.
The videos cover topics that customers ask most. We talked to Brooke Howell, series host and GM Financial team member, to get her take on the process.
Q: What prompted the team to make the Ask GM Financial series?
A: We wanted to provide customers with a self-servicing tool to help them manage their accounts and learn about everything GM Financial offers, from online messaging to payment options to paperless billing. Customers like to use channels that are familiar, accessible and shareable. YouTube was the perfect solution.
Q: How do you come up with the questions?
A: We listen to what customers are asking, including those from social media, customer data and what Customer Advocates hear on the phone and through messaging. We then digest all the feedback to create a list that addresses as many popular topics as possible.
Q: What is the process of creating the videos like?
A: The process includes teams all over the company to collect insights, select questions, create a script, shoot and edit video, and get them ready for public consumption. The ultimate goal is to make sure we're putting accurate, helpful information out there for our customers.
Q: How have customers responded to the series?
A: Responses have been great! Customers are thrilled that we're providing them with an accessible and shareable resource to help them learn about their accounts and get the answers they need.
We heard from several customers that we answered a question they didn't even realize they had.
Q: Can you share what's coming up in 2020?
A: We just started work on "Season 3!" We're collaborating with teams in Customer Experience to create a list of questions. We want customers to hear more about online messaging and other ways that they can manage their account.
Check out the full series on GM Financial's YouTube channel and keep an eye on our Facebook page to be in the know when new videos go live.