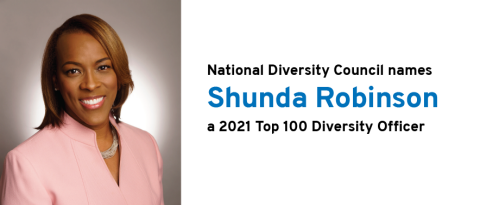 National Diversity Council names Shunda Robinson a 2021 Top 100 Diversity Officer
As diversity, equity and inclusion have grown into major business imperatives, so has the call to rank companies and officers for their efforts. The National Diversity Council (NDC) recently recognized Shunda Robinson, GM Financial's Global VP of Diversity, Equity & Inclusion to the Top 100 Diversity Officers™ list. The National Diversity Council is an organization dedicated to being a resource and advocate for the value of diversity and inclusion. They were the first organization to bring together the private, public and nonprofit sectors to discuss the many dimensions and benefits of a multicultural environment.
When choosing their top 100 list, the NDC looks for individuals whose exemplary work provides a model for utilizing best practices, leading organizational change and making outstanding contributions to DE&I. The Top 100 Diversity Officers award recognizes the efforts of officers who have the leadership and counsel to maintain and further diversity and inclusion initiatives and strategically prioritize the growth of diverse talent at an organization or company.
Shunda was hired as AVP of Diversity and Inclusion in 2015. She was promoted to VP in 2017, eventually becoming Global VP of the expanded Diversity, Equity & Inclusion program in 2019, reporting directly to the CEO. She is the catalyst for growing and evolving GM Financial into a DE&I innovator and leader in the auto finance industry. She has created, nurtured and advocated for programs that have experienced marked and measurable DE&I improvement and, more importantly, a positive impact on company culture.
With more than 25 years of HR experience, Shunda has been instrumental in helping major corporations such as Mary Kay Inc., Freese & Nichols and LSG Group shape their talent development strategies. In the six years that Shunda has been with GM Financial, she has spearheaded multiple partnerships that have allowed the company to better identify top diverse talent. Shunda is also responsible for GM Financial's DE&I Council, mentorship programs and Employee Resource Groups.
It is important to Shunda that the nearly 10,000 GM Financial team members across the globe feel a sense of pride in DE&I and that opportunities continue to emerge to grow and evolve the company's efforts in this regard. "Diversity, equity and inclusion can't be just what we say, it has to be what we do. It has to be who we are in the hallways and offices of our organization every single day," said Shunda.
Day in and day out, her mission is to make sure GM Financial embraces an inclusive culture that honors and respects the company's team members, customers, dealers and community.
Shunda has also been recognized by DiversityMBA Magazine as a "Top 100 under 50" Executive for 2019 and also by Diversity Global as a "2019 Diversity Champion."