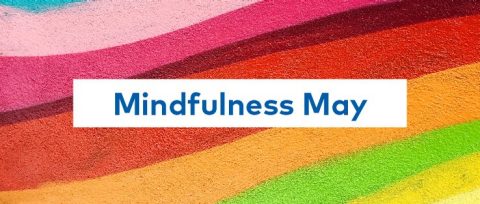 Mental Health Takes a Front Seat
Editor's note: This article talks about a variety of mental health topics. If you're dealing with mental health issues, please contact a mental health professional. GM Financial does not endorse any of the tools, apps or other brands mentioned in this article.
Having to double- and triple-check locks on doors.

Needing to take a certain number of steps from one place to another.

Fearing that every move I make is the wrong one.

These are just a few of the overwhelming experiences I've had as a person with anxiety and obsessive-compulsive disorder (OCD).

While I didn't always have those words to associate with my compulsions (I admittedly avoided therapy until well into college), I knew my life experience was different. Not in a bad way or an unacceptable way, but in a way that made life a bit more challenging than it needed to be.

And when you add big life changes to the mix, it's even more prevalent. When I started at GM Financial full time in June 2018, it required a move from mid-Missouri back to North Texas. I was working in a familiar environment (I interned at GM Financial in summer 2017), but I was working out of a different office when I rejoined the team.

Meeting new people. Living a post-grad life. Being in a place that was both familiar and unfamiliar at the same time. A lot had changed, and I was grateful to have a company that understood how important my mental health was because it directly impacts my ability to be successful.

May is Mental Health Awareness month, and I wanted to take the opportunity to be open about my experience, the ways I've learned to manage my anxiety and OCD and how important working for a company that supports me, like GM Financial, has been.

Helpful apps to download

First, let me say that there isn't a cure-all for anything, and everyone's experience with mental health is different. Our brains are made up of various chemicals that vary from person to person, so nothing is truly universal. With that said, I've had great success with a few apps.
Meditation apps: I used to think meditation was impossible (because how could sitting and breathing really help), but apps have totally reframed it for me. With guided, basic meditations offered in 3-, 5- or 10-minute sessions, they seamlessly fit into my everyday schedule. Don't hesitate, just download one.
Thought-tracker apps: These are a winner in my book because thought trackers help me process my emotions, good and bad, visually. My therapist recommended them (we'll get to therapy later, don't worry), and they're a great tool for dealing with anxiety, stress, sadness, excitement and effectively any other feeling. I input how I'm feeling, name my entry and walk through the internal and external reasons I'm feeling that way with questions as a guide. It saves it in a log, so I can look back on my entries and easily see patterns, too. This is a great resource for therapy because I was able to capture my exact emotions when I felt them.
Ginger: As part of our employee assistance program (EAP) at GM Financial, I have access to Ginger's mental health resources. From virtual therapy to streamlined messaging with mental health professionals, it's easy to get help from the comfort of my home.
Therapy

The beauty of a digital world is the convenience of therapy from anywhere with an internet connection. A quick Google search will reveal countless options to consider, but here are my key takeaways.
In person: I personally started seeing a therapist in college (a lot of colleges offer free counseling), and then again once I was in the "real" world. The benefit of sitting in a room with one is that a therapist is able to read your body language and pick up on things that are possibly missed virtually. I also took advantage of eye-gazing therapy, which is meant to disassociate connections in your brain and help you process feelings. Not all therapists are trained or do this, but I learned it's only effective in person.
Digital: Once the pandemic hit in 2020, my therapy moved online. At first, I was skeptical if it would work out as well, but I didn't want to be in person at the time either, so it was really my only option. Turns out, I prefer therapy from home. Being comfortable in my space gave me a newfound vulnerability that I didn't have in person. Not having to drive in traffic helped me mentally prepare to open up beforehand, too.
Text/Messaging: I haven't used this because I write for a living and prefer to have a face-to-face conversation, but I know people who swear by messaging therapy. It's convenient and discrete, without requiring you to dedicate a block of time to getting help. And I can totally see the benefit of having smaller interactions throughout the day.
As I've grown and learned about myself and my mental health, I couldn't be happier to work for a company that respects and supports me. I'm able to do my job more effectively and be more successful because I continue to make strides in ensuring I'm bringing the best version of myself to work.

One size fits all doesn't apply to mental health. As individuals, we all have to try out different techniques and coping mechanisms to truly see improvements. What works for me might not be what works for you. That's OK!

The bottom line: Mental health isn't something we should reserve for discussions in May for awareness. It's an everyday thing. Personal wellness, including mental health, ebbs and flows, but there is help and support available — every day.