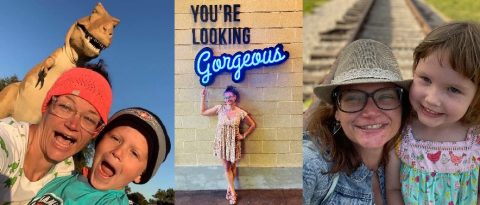 Accessibility for All: Invisible Disabilities Part 2
Editor's Note: This is the second story in a series of articles highlighting various invisible disabilities our team members at GM Financial are dealing with and how those differences make us stronger.
When I have a virtual meeting and I don't turn my camera on for it, I find myself apologizing.
It's not because I have to be on camera or because I'm expected to be. It's involuntary, really. Perhaps it's just an expectation I assume is there. All I know is I nervously fumble through explaining why I'm not on camera that day, followed by that darn apology.
But it hasn't always been like that.
In 2021, arguably one of the worst times in recent history to be a frequent flyer at a doctor's office, I spent a great deal of time in appointments and undergoing tests. Ultimately, my doctors told me I have lupus. My diagnosis is an autoimmune disease in which the immune system attacks its own tissues, causing inflammation and tissue damage to the affected organs. There are a lot of side effects of this disease that are unseen, and depending on if I'm currently having a flare-up, you might never know I have it. But when it flares up, it's hard to miss. My specific inflammation happens on my skin — my face and shoulders especially. As you can imagine, these are my off-camera days (and the days I'm beyond thankful for the opportunity to work from home).
Throughout the diagnosis process and figuring out how to deal with this new challenge, my marketing team at GM Financial has been beyond supportive. My manager told me I don't have to turn my camera on for calls if I don't want to, and this was echoed by my senior management and even some senior leaders of my company. I can't tell you how appreciative I am, but the funny thing is, the person who seems to pressure me the most to flip that camera light to green is me.
More common than you might think
An invisible disability is a physical, mental or neurological condition that cannot always be seen from the outside, but it can impact someone's movements, senses or activities, according to the Invisible Disabilities Association.
Invisible disabilities can range greatly, from epilepsy or hearing or vision impairment to dyslexia, chronic pain, diabetes or autoimmune diseases. There have been many studies conducted on invisible disabilities, but the common thread in them all is this: a lot of people have them, but many don't feel comfortable talking about them, especially in the workplace. 
I haven't been too shy talking about my diagnosis, but I wouldn't say it's something I like to talk about. It reminds me that I'm different, and when I do have to change the way I work to accommodate it, it makes me feel vulnerable — as if I shouldn't have to be accommodated.
We all have our battles — and kindness wins them all
I'm still learning how to manage my autoimmune disease, and I've been blessed to have fabulous examples in team members and friends who are living with other conditions that are, for the most part, unseen. One of those people is my co-worker Katrina Lewis, who wrote about her invisible disability of diabetes and how it affects her everyday life.
Knowing I'm not alone has been comforting. The fact is, many struggle with chronic diseases — both mind and body — that make everyday things a bit more challenging. And I know my diagnosis has truly made me rethink what were once run-of-the-mill situations.
First step: Try to put yourself in someone else's shoes. I never wonder why a team member isn't on camera in a meeting. Maybe they're having a bad hair day, maybe they're insecure that their work area isn't clean that day or they're just feeling a little more introverted. Or perhaps they are struggling with a chronic disease and that day just isn't their day. Whatever the case might be, I don't judge.
And maybe that's just it. 
Little by little, my hope is that the culture and the conversation around unseen disabilities continues to grow. I've found that seeking to learn about the challenges others are facing and finding ways to relate leads to more empathetic responses. The more you understand, the better you can be an ally to those who need support.
So the next time you're in a meeting and someone's camera is off, just remember, someone in your meeting might be dealing with an unseen disability. Be kind, be understanding and extend grace.
That's the advice I'm trying to live by every single day — whether I'm on camera or not!