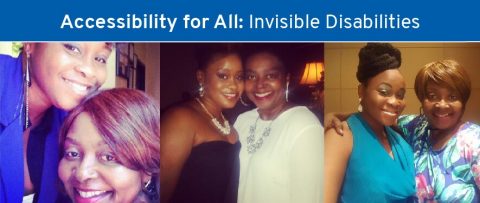 Accessibility for All: Invisible Disabilities
I didn't think I had a disability. All I understood at the time was that I couldn't eat cookies and I'd have to take shots for the rest of my life.
It was a typical, hot Texas summer in 1986, and I was preparing to start first grade in the fall. And because of the heat and the natural high energy of a 6-year-old, my mom had missed the signs that I was developing Type 1 diabetes.
Type 1 diabetes is a chronic condition where the pancreas stops making the hormone insulin. Insulin acts as sort of a "key" that allows sugar to enter your body's cells to generate energy. Without insulin, the buildup of sugar in a person's bloodstream can cause a dangerous condition called diabetic ketoacidosis (DKA), which can lead to a diabetic coma and death if left untreated.
Symptoms like weight loss, excessive hunger and my unrelenting thirst (classic signs of Type 1 diabetes) were explained away, with my mom thinking I was just hitting a growth spurt, losing weight as I grew a bit taller. And who doesn't drink a lot in the summer heat? I was constantly exhausted, but that happens when you run around and play with your younger sister and cousin. In actuality, my pancreas had stopped producing insulin, and my body's cells were starved for energy.
"You Have to Be Strong for Her, Mom"
But one evening, my mother noticed me nodding my head at the table during dinner. To this day, she's not sure why — call it mother's intuition — but she instinctively knew I wasn't trying to stay awake. Rather, I was trying to stay conscious. After rushing me to the hospital, and with a blood glucose reading of over 600 (a normal reading is 130 or less), I was diagnosed as a Type 1 diabetic.
Sensing my mom's worry and fear, but not knowing she was already thinking about how she would ensure I lived a normal life, the doctor said, "You have to be strong for her, Mom."
And she was. I learned to give myself multiple injections each day. I was a pep team member in junior high, a trumpet player in my high school marching band and newspaper editor. I attended college hundreds of miles away from home and have traveled, confident in my ability to care for myself. I participate in 5K "fun runs" and am a busy mom to a very active preschool scholar.
My Invisible Life
It's been more than 35 years of living with this disease. If there is a "joy" of living with a disability that isn't quite as "visible" as others, it's that most people don't see me as disabled. And honestly, it's hard to think of myself in that manner.
I mean, diabetics live very normal lives. They play professional sports. They lead organizations. They act. They fly commercial jets. They are writers. They even grow up to be internationally known pop stars as part of a trio of brothers. And a supermodel's Type 1 daughter just strutted down the runway with her insulin pump, a wearable device that delivers insulin through a wireless smart delivery system.
However, diabetes is defined as a disability because it "substantially limits the function of the endocrine system." It's also called an "invisible" disability. Federal law provides rights for diabetic children in school to ensure their health and allow accommodations for taking tests and for those who participate in extracurricular activities. In the workplace, diabetics have the right to "reasonable accommodations" to care for themselves, such as being able to test their glucose levels as needed.
Thankfully, I have always had managers who not only understand the ups and downs of my diabetes, but who have empowered me to care for myself and genuinely care about my health. I am an open book when it comes to sharing how diabetes impacts me, especially when complications of my disease can potentially impact my work or my team.
Pushing Through and Speaking Out
To be honest, it's hard to remember the five years I lived without diabetes. And though I've managed to avoid most major complications and live a "normal" life, having diabetes wears on me, mentally and physically. Though tech innovations have made it much easier to care for myself and monitor my health, it's honestly exhausting living with a chronic disease. But there is always strength to be found in struggle, and I hope my story is part of a rising chorus of voices sharing their own personal battles to bring awareness to other "invisible" disabilities through GM Financial and beyond.