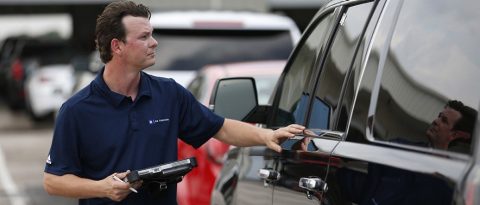 Remarketing's John Carter Named to Auto Remarketing 40 under 40
John spent seven years as a Remarketing Specialist traveling from auction to auction repping thousands of vehicles on the GM Financial/AmeriCredit block.
"John's extensive knowledge of the remarketing industry, vehicle reconditioning and understanding of NAAA standards ensures an exceptional customer service experience for dealer purchasing vehicles through GMF DealerSource," Brad Bollman, VP Remarketing Solutions said.
Three years ago, John moved to an internal support role where he now leads a team of 10 handling off-lease vehicle inspection standards, supporting Off-lease, Rental and Company Car sales upstream through GMF DealerSource, and coordinating online sales from physical auctions.
"I have had the pleasure of working with John since joining GM Financial.  He has a passion for the automotive industry and shares his knowledge as a mentor and coach for his team," Bollman said. "John represents the elite group of professionals who continue to advance the ever-evolving remarketing industry."
We sat down with John and asked him about what it means to be a part of Remarketing Solutions.
How did you first get into remarketing?
Remarketing is a unique part of the business. You can tell when it gets in someone's blood; it got in my blood. I love the feels and the smells of being at the auction.
I started my remarketing career at Manheim DFW. I was the young guy who absorbed anything and everything anyone would share with me. I've been fortunate to work with some incredibly talented people who have been in the industry for a long time. I've made a point of trying to absorb everything I can. The experience in Remarketing Solutions runs deep. Tremendous industry talent is represented in this department.
What's been the biggest challenge?
I've always enjoyed being busy. As a Remarketing Specialist, I was in the middle of the hustle and the bustle, constantly being pulled in 15 different directions. Moving to internal support has been a departure from that breakneck 90-miles-a-minute speed. I enjoy managing people, which is a different challenge. Everyone on the team has unique tasks and knowledge. It's fun to keep all those plates spinning.
What are you most proud of?
I'm extremely proud of achieving Certified Automotive Remarketer (CAR) status. To be certified, I took 20 courses and five tests focused on topics like remarketing channels, ethics, and activities with pre-sale, sale and post-sale. Coursework is followed by a certification test and continuing education.
The CAR certification process has been compared to earning a doctorate in remarketing. I like that spin. The process was challenging for each of us who has taken the test. But, I liked that the accomplishment took me to the next level. Any time I can work towards a new goal, I want to try.
What's something interesting you'd like to share?
I'm just short of having 1 million frequent flyer miles on American Airlines. The majority of those came from my time as a Remarketing Specialist. Oh, and I'm going to be a GM Financial lifer!