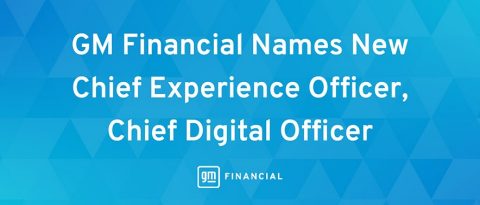 GM Financial Names New Chief Experience Officer, Chief Digital Officer, Chief Information Officer
GM Financial's Customer Experience, Digital and Information Technology (IT) departments are now under new executive leadership.   
The company announced a slate of changes to its executive leadership team, introducing new Chief Experience, Chief Digital and Chief Information Officers.
Effective Jan. 1, the company's current Executive Vice President and Chief Experience Officer, Bob Beatty, will retire after 20 years with GM Financial.
As a long-serving member of the Executive Team, Bob helped shape our strong, customer-centric culture and touched many lives. Bob's efforts to position GM Financial as a world-renowned automotive finance captive included major accomplishments like the introduction of innovative strategies and technologies that have enabled 24/7 access and self-service products for our customers.
Following Bob as Executive Vice President and Chief Experience Officer is Mike Urrutia, a seasoned professional with more than 30 years of GM Financial and industry experience. Mike's 29-year tenure with GM Financial is punctuated by leadership positions in Dealer Services Operational Support, Sales and Credit Operations and Funding. He currently serves as Executive Vice President for U.S. Dealer Services Operations.
In another executive team move, Kelly Wyatt was appointed to the role of Executive Vice President and Chief Digital Officer, effective Nov. 14.
Throughout her 21-year career with the company, Kelly has held leadership roles in our U.S. Loss Recovery and Commercial Lending organizations. She currently serves as Senior Vice President, IT Business Solutions.
Kelly steps in for Will Stacy, who was both Chief Digital Officer and Chief Marketing Officer before transitioning to General Motors in October.
Will spent nearly 10 years with GM Financial, building an award-winning team of marketers to create and implement long-term strategies that steer and shape GM Financial's brand and deliver on its promise of driving loyalty fueled by remarkable service. In his new role, he will lead the Chevrolet brand in China and remain an integral member of the General Motors enterprise.
Most recently, Chitra Herle was appointed to the position of Executive Vice President and Chief Information Officer, effective Jan. 3. Chitra succeeds longtime Chief Information Officer Patrick Rayball, who retired earlier this year. Randy Hanna served as interim Chief Information Officer.
Chitra brings more than 20 years of IT and finance industry experience to her new role. She comes to GM Financial from Silicon Valley Bank, where she is Divisional Chief Information Officer, Commercial Banking. Previously, Chitra was Senior Director of Engineering at CBRE Group and before that held leadership positions at Capital One Auto Finance.