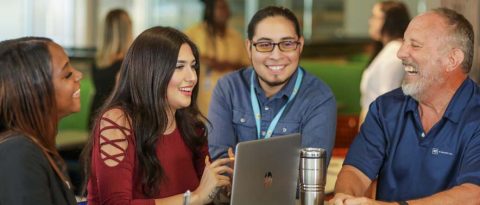 A teacher. An uncle. A parent. Many of us can recall leaning on someone for advice or help. Whether you considered this person a mentor or not, they were. They were imparting knowledge on you for the better. These people can help guide, coach and encourage your development for future opportunities. Having a workplace mentor is equally as important for many of the same reasons.
Providing opportunity
GM Financial launched a pilot mentorship program in 2016 with the intent of providing access and growth opportunities for team members.
"Having been a benefactor of good mentors in my life and career, it was important to me to open the door to let others in and experience what a mentorship can offer," said Shunda Robinson, Global Vice President, Diversity, Equity and Inclusion at GM Financial.
The pilot program with 64 team members was a success, and the Global Mentoring Program now consists of over 800 mentors and mentees.
"By having a diverse organization and including everyone, the mentoring program can expose team members to many opportunities. Conversations begin to happen around mobility and career opportunities by providing this exposure," Shunda said.
A look at the Global Mentoring Program
Mentorship can fully bind together the purpose of diversity, equity and inclusion in ways that some programs can't. It can remove silos within an organization and bring together people who otherwise may not cross paths in their normal day-to-day work and help stay connected to team members in a hybrid-remote environment.
Jenna Parker, a Customer Service Specialist in Bogota, Columbia, and her mentor, Eric Brock, an Assistant Vice President in Cybersecurity based in Arlington, Texas, offer a glimpse into what the mentor program offers.
She said Eric's years of experience have been an invaluable resource.
"In my mentoring sessions with Eric, I've come away with actionable ideas about how to stay connected with my team virtually and how to influence others," said Jenna, who has been with GM Financial for about five years. "He helps me look at a situation from 360 degrees rather than seeing only what's in front of me. Talking to someone with more and different experiences has been extremely beneficial."
Eric is in his second year as a mentor. He said the Global Mentoring Program is equally beneficial for him because it allowed him to develop relationships with two mentees he may have never met otherwise.
In addition to bringing people together from various locations, the program is also designed to match mentors and mentees from all walks of life.
"Roughly 95% of our mentee/mentor pairings are with individuals of different ethnic or cultural backgrounds," said Shunda. "We do this to bring people together — it's natural for people to gravitate to familiarity — but there's so much richness in connecting with and learning from someone you wouldn't otherwise gravitate toward."
Advice on mentorship
Whether you're considering a role as mentee or mentor, your answer should be yes! And if you can do both, you should do that, too.
"Regardless, if you're in the mentee role or the mentor role, there's an opportunity to learn," Shunda said. "That's why we created a reverse mentorship program."
However, if you're looking to be a mentee, she recommends being open to possibilities. Your mentor may not be what you anticipate.
"Keeping an open mind about your mentor could be like a diamond in the rough situation, and that's what is great about mentorship: connecting with someone you otherwise wouldn't and leaving a lasting, positive impact on them," she said.
To learn more about GM Financial's Global Mentorship Program and our Diversity, Equity and Inclusion journey, check out our DE&I page or download our 2021 Diversity, Equity and Inclusion Annual Report.