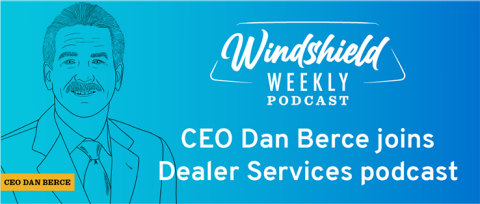 President and CEO Dan Berce joins the Windshield Weekly Podcast
Dan Berce, President and CEO, recently sat down with Windshield Weekly Podcast host Scooter Hendon to discuss the evolution of GM Financial and the business' growth as a floorplan lender.
The Windshield Weekly Podcast launched in September 2020 as an efficient way to broadcast relevant information to GM Financial sales and credit team members in the field, whether they're on the road or multitasking at home.
With a unique flair (and supported by a small but growing cast of amateur voice actors), Scooter supplies important Dealer Services messages, often in the form of skits and sketches with multiple characters, played by GM Financial team members.
Now with more than 30 episodes in the books, Windshield Weekly frequently welcomes guests from all corners of the company, providing access to insights and ideas from senior leaders across the company — all in a fun, portable format.
To hear from Dan on GM Financial's captive journey, financial strength throughout challenging economic cycles and iconic facial hair, check out an abbreviated Windshield Weekly Episode 33.