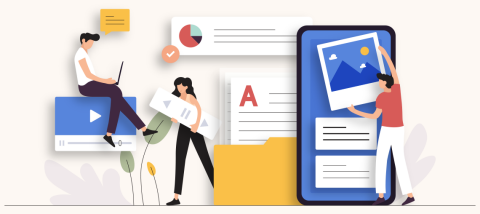 The Change Advocate Network
DISCLOSURE STATEMENT: Opinions in this content reflect those of the author. Unless specifically noted in the article, GM Financial is not affiliated with, does not endorse, and is not endorsed by any of the companies mentioned. All trademarks and other intellectual property used or displayed are property of their respective owners.
GM Financial's Change Advocate Network (CAN) was created in October 2019 as a volunteer group of Information Technology (IT) team members supporting the transformation dubbed "OneIT." This transformation is reconfiguring the IT organization by adapting new methods, upskilling staff and reorganizing services to better serve the business needs of GM Financial.
OneIT set out to ensure strong ties between the leadership enabling change and those who had to adjust their procedures and ways of working to make the change a reality. The group serves as a bridge and helps keep communication open as OneIT rolls out new ways of supporting the business. This includes creating or establishing a new governance model, an operating model, innovation, cloud strategy and service delivery.
The team members, or CAN members, meet once per month to review announcements, listen to subject matter experts speak on a transformation topic and, most importantly, to discuss how their teammates are perceiving the OneIT Transformation changes going on around them.
Membership in the CAN is an integral part of the IT department, and its members have great things to say:
 
Autobots Software Development Manager:
After volunteering for the Change Advocate Network (CAN), I consciously made myself be more aware of my work environment than usual. I learned to listen more carefully to what was being said around me and to me, and how it relates to the changes we are all going through as an organization. I learned to ask better questions and engage with fellow team members to get their perspectives, and to share what I knew about the changes we were and are all facing.
Essentially, I learned to become more empathetic as I embraced my role as a CAN member, and learning to see things the best I could from others perspectives and gain a shared understanding. This beneficial change has carried over to my personal life, for which I am grateful.
 
Lead Data Quality Analyst | ITS, Data Warehouse Administration:
CAN membership is a privilege because I get to know about a change in its early phase. I love the discussion and conversation that happens around a change topic. Feedback is really heard and is incorporated into the change. I personally benefited from knowing about Agile and the IT Operational Model change. Shortly after, one of my resources had to work on an Agile DW POC project, and I couldn't have been better prepared. I was fully equipped. Thanks much for keeping us involved throughout the change process. It helps a lot!
 
Quality Assurance Manager | ITS, Diversity, Equity and Inclusion Council Onboarding Lead:
One of the attributes I like about GM Financial is its efforts to create an environment for team members to belong, discover and thrive. I kept hearing IT transformation buzzwords for many months, but did not truly understand the details or impact.
Being a member of the CAN provides me an opportunity to contribute toward multiple phases of the IT transformation process. I'm able to engage with a global community, be a liaison within my department and submit feedback/recommendations from GM employees. Serving as a Change Advocate provides more value than I expected. I'm excited to see the progress GM Financial will make in the next few years. Thanks for this opportunity.


The CAN has a subcommittee that has spent time analyzing the commentary. The committee finds that a word cloud gives a clever summary of the comments entered in the meeting's chat window and those taken down by hand. Here's an example: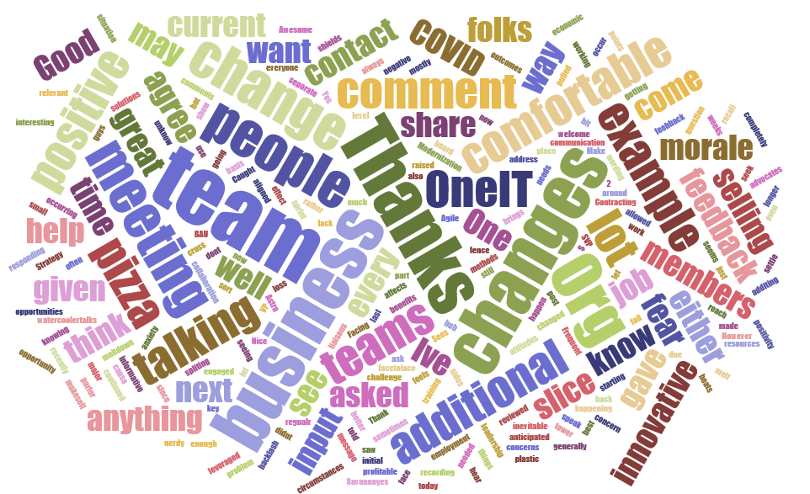 The word cloud shows the frequency of the words used by adjusting their size. The largest words, "Thanks, Positive, Change, Business, Teams, Innovative and Comfortable," show how the discussion around OneIT adaptation has been well received.
A Change Advocate Network is a useful organizational change management technique to give a company or any organization a strong communication avenue while going through an IT culture or process change. It supports the people side of change to build morale and engagement by providing a place for team members to be heard by their leadership and to have a hand in the transformation.