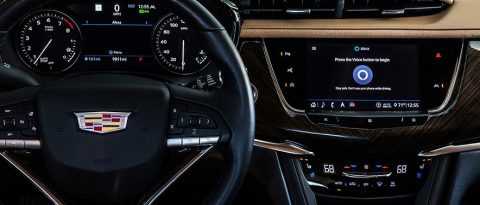 Command the Road: Voice Tech in Your GM
Remember when TVs weren't flat? When the only way to turn on a light was the switch on the wall? Or when the only thing you could do with a phone was make calls?
Technology is a far cry from what it once was, and we're officially in the age of voice-integrated cars. That's right — the era of smart cars is here.
With updated daily routines that include spending more time at home, it's no wonder people want to take the conveniences of voice technology on the road.
Here are some upgraded experiences you can look forward to with your voice-integrated GM vehicle.
Infotainment – Ask a question or request a particular song from your playlist
To-do list/ordering items – Make a list to help you remember something later or purchase items directly if you're linked to an online retailer
Connecting your home and vehicle – Sync with the smart system in your home to conveniently adjust the temperature or dim the lights when you're away
Navigation – Get turn-by-turn directions to your location without having to type it into a GPS
Stay tuned for more ways technological advances in vehicles are making your life easier. Voice assistance enhancements are becoming a standard part of the GM driving experience. Check out if your dream vehicle has voice tech and more on our offers page, so you can keep enjoying the excitement of the road.
What would you do with voice integration in your car? The possibilities are endless.