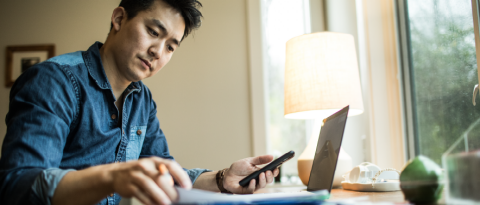 A Quick Start Guide to Payment Options
Can paying bills be easier? We think so. Our newly redesigned payment options give you a more personalized experience that eliminates confusion and helps you find the information you need faster.
You can find all of our payment options by going to GMFinancial.com and clicking Payment Options under Finance Tools. Ready to try it for yourself? To get started, all you need to do is:
Use the drop down menus to tell us what kind of account you have
Select your preferred method of payment
Click submit
From there, you'll see a page with all the details you need to make a payment, plus relevant information like potential fees, payment limits and deadlines.
Use the quick start guide below to find which payment option is best for you. Keep in mind that some of these options may incur fees.
Pay online

Set up one-time or recurring online payments using a bank account or a debit/ATM card.

Pay by credit card

Choose to make a credit card payment through ACI Payments, Inc or MoneyGram.

Pay by mail

Submit your payment coupon (found on your billing statement) and a check via regular mail or overnight mail.

Pay by phone

Call our automated phone system or agent-assisted number during normal business hours to pay by phone. Payments made before 9 p.m. EST go into effect the same day you call. If you're paying from a bank account, you can even call and schedule future payments.

Pay by cash

Send a cash payment through Western Union or MoneyGram.
Go to our payment options page and see how easy it is to make your next payment and keep your account on track.