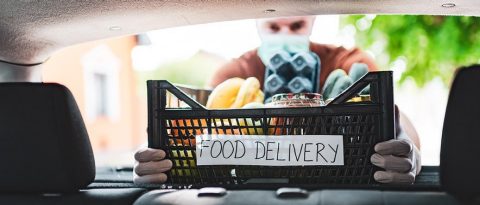 Ways to Volunteer Using Your Vehicle
No matter where you are or what you're interested in, your vehicle can kick-start your volunteering efforts. Check out these seven ways to get behind the wheel and drive change in your community.
Remember to follow pandemic protocol and bring your clean mask and hand sanitizer or gloves with you.
Deliver meals. Many organizations and food banks will put together bags of groceries or prepared meals that just need a willing driver to deliver them to the homes of their registered recipients. Can't find an organization near you? Offer to pick up groceries on your next trip to the store for a neighbor or friend who may need assistance.
Make a delivery. Soup kitchens rely on volunteers for more than serving in the kitchen or buffet line; they need supplies and ingredients for the meals as well. Many only allow deliveries at specified times and have requirements on what they're able to accept, so make sure to check the hours and needs of your local soup kitchen before pulling up with a delivery of your own.
Hit the trails. Truck owners living near a national forest or park are in high demand by the U.S. Forest Service to help with light trail maintenance. Most volunteers are asked to remove tree limbs along trails, pick up and dispose of trash on the trails, and replace signs, but some programs are simply looking for volunteers willing to transport young trees and shovels to neighborhood planting events. Contact your local park service to see how you and your truck can help transport some of those heavy and bulky items.
Support your team. Soccer, baseball and other youth sports programs rely on volunteers to do everything from setting up the field to coaching the youngsters. On their websites, some specifically seek volunteers with access to a roomy vehicle for hauling equipment — a great opportunity to lend a helping hand (or wheel).
Help the youth. Many youth centers implement after-school programs to help their new drivers develop valuable skills like auto maintenance or road safety, and volunteers with a valid driver's license are needed to teach seminars or weekly classes. Some shelters are also looking for drivers to be on call as responders who are available at any time to pick up and transport youth when they reach a designated "safe place."
Be a chauffeur. You can use your vehicle to provide assistance to the people in your life who don't feel comfortable getting out on their own. Offer to pick up groceries, run errands or coordinate a masked trip to a medical appointment. However you reach out, you'll be making a difference.
Help manage a (socially distanced) marathon. Many nonprofits hold annual marathons, 5k races and fun runs to raise money and boost awareness. While there might be virtual events for some causes, others might be in need of volunteers to help set up their mile markers. Find a cause you're passionate about and reach out to their coordinators to see what you can do to help.
Whether your aim is to reduce stress, learn new skills, boost your résumé or just try something new, you'll get plenty in return when you start giving back to your community. So, what are you waiting for?