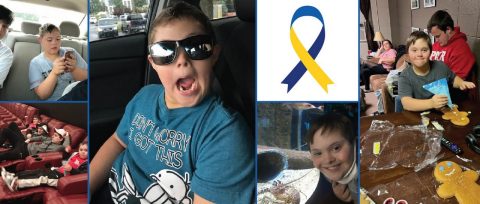 Living With Down Syndrome: Laughter Fills the Home
Joseph Horsley and his wife, Rebecca, didn't know Aven, the couple's sixth child, would be born with Down syndrome. And when they found out, they didn't know what to expect. They were unclear on what medical complications Aven might have and what behavioral challenges they might face. They also didn't know that a day with Aven would mean a day filled with laughter.
"It's a common theme with kids with Down syndrome," says Joseph, a credit manager leading a team at GM Financial. "They don't seem to have a bad day like I would have. They're not resentful. They are always very loving. It's amazing. He understands if he is being mistreated, but he isn't vengeful and doesn't dislike the person. He's always smiling, having a great day."
Joseph says the first few years with a child with Down syndrome can be uncertain. During this time, they had built-in support from their family. "I think it helped that he had older brothers and sisters," Joseph says. "You don't know the severity when they are first born, how it will affect their day-to-day life."
Down syndrome is a condition caused by an extra chromosome. The duplication of chromosome 21 causes babies' brains and bodies to develop differently. Common risks include hearing loss, sleep apnea, ear infections, eye diseases and heart defects.
A doctor told the Horsleys they might not know all the complications Aven would face until he reached about 5 years old. Statistics show that children with Down syndrome have about a 50% risk of being born with a heart problem or issues with their bowels. Aven, now 13, had a heart murmur that cleared up within a week, sparing him the sometimes multiple heart surgeries children with Down syndrome must endure before they even celebrate their first birthday.
Aven was lucky to escape major medical issues, but the support his family has had is something Joseph hopes every family raising a child with differences can find. The uncertainty of what to expect can be hard.
Joseph says GM Financial has been unbelievably supportive, allowing him flexible work hours so he can help at home when needed. The company, through its quarterly Community Investment paid time off and Walk/Run/Cycle reimbursement program, is proactive in supporting charities and suggested Joseph take time to do a local walk that supports Down syndrome awareness.
Through the GM Financial community, Joseph has become a supportive voice himself. He's volunteered to talk with friends of colleagues who've learned they're having a baby with Down syndrome. For example, Joseph says he's quick to give his number out and volunteer his family's support. "I know how difficult the road might seem," he says, "especially with a brand-new child."
"I didn't know how many people I would come in contact with that I could help out or give advice to," he says. "There are so many questions right off the bat every parent has, and when you have a kid with Down syndrome, you can be quick to get discouraged. There are things you don't know."
That encouragement proves powerful during the most challenging of times. Aven has struggled in school, acting out in frustration when he realizes he's different from other kids. The family must also keep a careful eye on the extra-curious boy. Joseph says some children with Down syndrome often become either extra clingy to their parents or extra curious without regard for their surroundings.
"We can be in public, and Aven will see something interesting and just walk away," Joseph says. "We're always making sure we have a hand on him or an eye on him."
Aven is a high-functioning child who stays active in sports, playing on a basketball team with other children with disabilities. He's also proven instrumental in cheering on his older siblings and their sports teams.
"All of my kids have been involved in sports, and my two older boys played water polo. The teams always adopted Aven and had him sit on the bench," Joseph says. "He would get into it and say, 'Dad, I have a water polo game coming up.'"
Whether playing sports, talking about girls, playing video games or knowing all things Marvel, Aven is highly engaged. And he's engaging. "He is funny to joke around with," Joseph says. "He has a good sense of humor. He will say jokes or do stuff jokingly, and I'll say, 'That's pretty funny, buddy, that you thought of that.'"
Joseph wants other parents of children with differences to know the right support helps you see the positives. "We laugh pretty much every day about something he does or shares," Joseph says. "Looking back at it, I wouldn't want my kid to have the disability, but he has enriched our lives so much, and we try to just give him confidence."
That joy spreads from Aven to others and back to Aven. "He always lights up a room," Joseph says.
A life full of smiles and laughter has that effect.