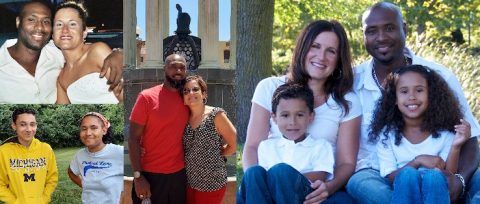 How One Biracial Family Navigates Modern Society
Honoring our Heritage: Part One in a series of articles featuring GM Financial team members and how they honor their cultures and heritage.
Teaching a teenager how to drive is nerve-wracking; it's hard to know who's more scared. Marcy Ryan-Hooker, director of Diversity, Equity & Inclusion at GM Financial, is teaching her daughter, Karlee, how to navigate the streets of Ann Arbor, Michigan.
Building up Karlee's confidence while clinging to the passenger side grab handle is one thing, but some fears are more deeply rooted. While remembering rules of the road, in the back of their minds are the conversations they have had about police interactions gone terribly wrong.
Marcy is white and explains that her children "identify as Black. Black biracial. Sometimes they feel unaccepted by white folks because they identify as Black and, because they are of mixed race, aren't deemed Black enough by some Black folks."
For Marcy and her husband, Kwame, a Black man, conversations about race, identity and their children's place in the world are as heartbreaking as they are vital.
"[Karlee] is terrified of the police because she's seen things that have happened to people that look like her and look like her dad," Marcy explains. "She wanted to tape the insurance and registration to the dash. To have it right there, so she doesn't even have to reach for it."
Karlee's younger brother, Diallo, has mentioned hesitation in wearing hoodies in his own neighborhood. What if he wants to use the hood? Or shove his cold hands in the front pockets? How might that look?
Never a one-and-done talk, the ongoing discussions began before the children were born, when Marcy and Kwame first met.
Checking the rearview
Marcy grew up in a small, northern Michigan town. With few persons of color in her school system, "discussions of race and diversity just didn't happen," she says. Kwame had grown up in Kalamazoo, a diverse college town in southwest Michigan.
"He told me he was a teacher, so that melted my heart," she says while laughing at herself. She explains those early years of their relationship as a time of learning from one another. Marcy admits she had a lot to learn, such as dealing with some of her bigoted family members and stereotypes people have about white women with Black men and vice-versa, none of which are true.
Marcy and Kwame talked constantly and comfortably about race and racism. They discussed how they would raise a biracial family that would know their roots and take hold of their futures.
Driver awareness
Today, you'll find the family gathered for dinner most school nights. It provides the routine structure and predictability Marcy grew up with. Dinnertime is an opportunity to reconnect, tell funny stories, and talk about school, friends and weekend plans.
For the family, these dinnertime conversations are how they steel themselves for the world. "We have talked, and continue to talk, about race and individual and institutional/systemic racism with our children. A lot. We educate and arm them with information," she says. Marcy and Kwame teach them to be proud of who they are and to know and appreciate their African American history and heritage, with an emphasis on navigating a racially biased world as Black biracial people.
Marcy and Kwame want what every parent wants: for their children to strive for greatness and achieve their dreams. "We want them to be their unique, awesome selves! They understand not everyone sees them that way, but it doesn't hold them back. When others try to hold them down, they know how to break free."
Right of way
Marcy is cautiously optimistic for the road ahead, for her family and for GM Financial.
"I mean, just the fact that we're doing an article like this and we have these discussions is amazing," says Marcy about inclusion in the workplace. "I never really thought I would see a time like this come. When I first started working, it was, 'You don't talk about race, religion or politics at work. Period, end of story.' Now, we're talking about it all the time. It's amazing just how different [the workplace] is. We have a long way to go in our journey, but we're working on it."
In the end, Marcy wants people to realize her family faces unique trials other families do not. "Yes, we have challenges because we don't all look like one another. Sometimes they're painful to have to deal with," she explains.
Challenges include people thinking they aren't all together while in line at the grocery store or being strategic when traveling to places where they aren't always accepted. But, because they have spent countless hours sharing lived experiences and having important discussions about race, racism and white supremacy, they work through those issues together as a family and are stronger for it.