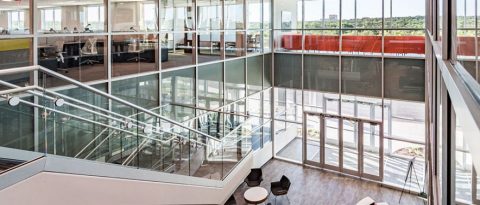 GM Financial to celebrate ribbon-cutting event for new San Antonio Service Center
GM Financial will celebrate the grand opening of its newest servicing center in San Antonio on Thursday, Oct. 19, at 10 a.m. The company broke ground on the facility in April 2016 in a ceremony attended by Texas Governor Greg Abbott and other elected officials and members of the community.
This new facility could house up to 700 jobs for the San Antonio area and potentially drive more than $300 million in total economic output in the first 10 years of operation, according to analysis conducted by Impact DataSource. The 100,000 square-foot facility constructed on 13.8 acres of land is another great example of the company's continued strategic expansion and support of GM.
During the grand opening ceremony, GM Financial will also present two vehicles as part of its Cool Cars for Remarkable Kids program to Ronald McDonald House Charities of San Antonio. The two Ronald McDonald House facilities in San Antonio will be the 16th and 17th locations to receive Cool Cars since the program launched in late 2016. Cool Cars are off-lease SUVs that help meet the transportation needs of Ronald McDonald House children and their families, helping them get back and forth for treatment, run necessary errands and more.
For more information on the grand opening ceremony or the San Antonio Service Center, email media@gmfinancial.com.