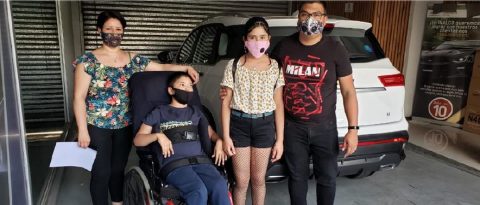 Mobility for All — Not Just a Slogan
Walter Traipe knew he needed a new vehicle for his son, Vicente, who has cerebral palsy. His old one had the room he needed for Vicente's wheelchair, but it wasn't reliable, and in their city of Santiago, Chile, he had a hard time finding parts to get it fixed.
Outfitting the right car with the special seat belt Vicente needed would be expensive. That's when Walter found a new GM Financial program that gives a reduced interest rate on new vehicles to families with disabilities.
"The interest rate was much better, and it allowed me to make the purchase. That's the reason I went with GM Financial," says Walter.  

Not only did the financing fit the Traipe family's budget, but the Chevrolet SUV they bought could be adapted with the special racecar seat belt that allows their tall 12-year-old to safely travel in his wheelchair.
Embracing an inclusive culture
The special financing program for people with disabilities is the brainchild of Ariel Arancibia, who, with his colleagues at GM Financial, Chile, helped launch it in September. It is the first plan of its kind offered by the company and currently is only offered in Chile.
Ariel's personal experience motivated him to try to make a difference.
Family friends had a son in a wheelchair. Ariel saw how hard it was for them to transport their son to doctors or physical therapy. They did not have a vehicle, and using public transportation or renting a properly equipped vehicle was difficult and expensive.
"I thought it was possible to do something to help people with similar conditions," Ariel said.
The entire team in Chile supported the idea. Various departments invested weeks designing the inclusive plan, reviewing legal and commercial conditions, analyzing the market, and defining the strategy and other variables.
"I'm grateful that GM Financial is open to new ideas and promotes an environment to create an impact," said Ariel. "I feel listened to, supported and motivated to continue presenting ideas to promote diversity and inclusion."
The GM Financial team in Chile is working on other possible financial plans with inclusivity in mind, and they are sharing best practices with other markets for potential implementation.

Business value
Chevrolet dealerships in Chile promoted the new plan on their social media channels in October, and the first customer came in that month. To date, seven customers have purchased GM vehicles under the new plan. The families have expressed to dealers that the inclusive plan has made a difference in their quality of life and they see GM Financial as a company that truly values inclusion.
It definitely has had a positive impact on the Traipe family. Walter says Vicente loves the new car.

"This is the first brand new car we've had," says Walter. "Vicente loves traveling. He says, "Let's go to the beach. Let's go in my new car!' "