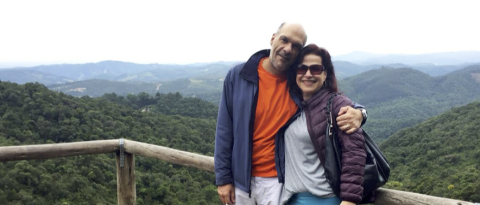 Finding Balance: A Couple's Surprising Mental Health Discoveries
When Margarete Goncalves first met her future husband, Cesar Macedo, she knew he was living with bipolar disorder. But she didn't really understand what that would mean for him — or her — until the uncertainties of the COVID-19 pandemic changed everything and required them both to seek help for mental illness.
Margarete, a GM Financial Talent Manager responsible for Latin America and works from her home in São Paulo, Brazil, exudes energy. Her magnetic personality has often defined her relationships. When her husband's struggles with bipolar disorder took a difficult turn during the pandemic, she found herself struggling to get out of bed and zapped of her excitement for life. Her depression was something even she didn't understand.

She tells her story with the hope — the belief, really — that her life can encourage others to share their struggles, seek the help they need, be empathetic to those around them and enact positive change.
Struggling to find mental health balance during a rough time
Cesar Macedo struggled with depression as a boy. In his 20s, he was diagnosed with bipolar disorder. Treatments from psychiatrists, psychologists and medicine kept him balanced. He was doing so well Margarete didn't much think about his condition, even after the couple married. But situations change. Following surgery and an intense struggle to start a new career, everything came to a halt for Cesar when the pandemic hit.
"People with depression and mental illness are more sensitive, in general, to the situations of life," Margarete says. "So, he feels things in a different way. He struggles."
With the surgery impacting his medicine levels and the frustrations of life around him, the bipolar disorder took a sad turn toward crisis and a suicide attempt. Fortunately, Cesar survived and used time in the hospital to get better.
"He needed to get in balance again before coming to society," Margarete says. "He needed to get all the medication at a good level; he needed to get in balance. That is the word, balance."
Having only ever seen Cesar doing well, Margarete simply didn't understand the power of mental illness, even living with someone who was facing it. "He was ok," she says, adding that he was receiving good treatment. "I just saw him having this hard time when I saw him out of balance."
Getting help for mental health wellness
The traumatic events in her husband's life left a mark on Margarete. She, too, started to struggle, falling into depression — a new place for her. "I had lots of prejudices, even against myself," she says. "I even didn't recognize myself not feeling well, not wanting to get out of bed, not wanting to go to work. I needed help. I needed to go to the psychiatrist myself. I needed to start taking medicine."
Margarete was open with her struggles. She informed her leadership at GM Financial about her situation, and they helped her get the resources she needed. She went to a psychiatrist, started taking medicine and remains active in her care.
"I was very lucky to feel comfortable sharing with them," she says. "Not everyone is as lucky as I am to have leaders who were so open and understanding. I needed some time — not every day — but there were days I needed to take for myself, even when he was at the hospital or when I was so impacted with everything that was happening."
Margarete says the not knowing about mental illness by those around her — even from herself — shows the need to tell her story, to seek help and accept help. "I see myself talking to other people, not feeling embarrassed asking for help," she says. "I see many people struggling with COVID-19, and I was talking to my husband this morning about the effect we can have on people. You don't need to suffer anymore. Go look for a doctor, don't fight prejudice. We have so many wrong ideas about mental illness."
Finding perspective on mental health and moving forward
Every case is different; the two cases in her own home are vastly unlike, and she's already discussing with her doctors a future move away from medicine. Margarete says the perspective of a therapist or doctor can prove a powerful tool.
She encourages people to be open with those around them. "I saw my leaders as my partner on this journey," she says. "I prefer to share than to hide, and I think that is the best way to manage. Otherwise, they wouldn't have understood my behavior, and that can be harmful. If I shared that I needed to go to the hospital to see my husband or I was not feeling well and needed to take time for myself, they understood and were really partners. I felt really embraced by them; they were really empathetic."
With this unexpected journey now part of this married couple's history, Margarete says it has given her a newfound desire to simply be happy, live each day on its own and enjoy every moment. When she's on a work phone call, she wants to ask how the other person is doing. When she's with her friends and family, she wants to enjoy the time. When she's working, she wants to embrace the people around her.
"I saw how bad it is when you are feeling blue that I want to enjoy every moment when I am feeling good," she says. "I want to make this moment matter."