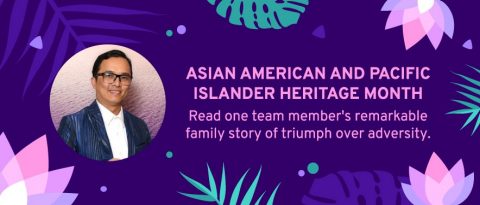 AAPI Heritage Month: One GM Financial Team Member Is Living His American Dream
As a boy growing up in Vietnam, Stephen and his family endured the hardships of a war that divided their nation and landed his father in prison for eight long years after the fighting ended in 1975.
Stephen, Assistant Vice President of Enterprise Software Development in Arlington, Texas, has worked at GM Financial since 2001, when the company was known as AmeriCredit. He was hired as a Senior Enterprise Software Developer and has been promoted three times during his 22 years with the company, becoming AVP in 2014.
When he was born, his father was a South Vietnamese military officer fighting against the North Vietnamese Communist regime. Stephen was a 1-year-old when the North Vietnamese military captured Saigon, the southern capital, effectively ending the war.
Over the next 14 years, Stephen, his mother and father, and his older sister did everything they could to survive before seizing the opportunity for a new life in 1989. That year, they immigrated to the United States through a government program known as the Humanitarian Operation, and their American dream began.
Stephen is sharing his remarkable life story in honor of Asian American and Pacific Islander (AAPI) Heritage Month, an annual celebration in May that recognizes the contributions of Asian Americans and Pacific Islanders to the history, culture and achievements of the United States.
"For me," Stephen said, "AAPI Heritage Month is a reminder of where I've come from and to be proud of my life story, how I got to America and where I am now."
Struggling to survive in post-war Vietnam
In 1975, the year the war ended, Stephen's father, Dominic, was sent to a "reeducation" camp operated by the Communist government. In these camps, which were hard-labor prisons, the government locked up approximately 300,000 former military officers, government workers and supporters of the former government of South Vietnam.
Stephen didn't see his father for the next four years. For him, that time was a blur. But when he was in first grade, he remembers traveling three days and three nights to North Vietnam to visit his father in the trại cải tạo (reeducation camp). It was the only time he saw his father during his eight-year imprisonment.
His father subsisted on a cup of rice in the morning and one in the afternoon. He weighed only 90 pounds when he was released from the camp in 1983. Life was equally hard for his mother, Theresa. Until 1975, she was a kindergarten teacher at a Catholic school in Saigon but was no longer allowed to teach after the war.
"She struggled to put food on the table for me and my sister daily," Stephen said. "She had to go around to borrow a few cups of rice. And she worked multiple jobs as a street vendor selling cigarettes, selling balut (eggs), working odd jobs to make ends meet and to buy personal items like soap, toothpaste, candy and medication to send to my dad while he was in the camp."
Many of the items in their home quietly disappeared as she sold them to get money for food. First the radio. Then the TV. A picture frame and the art from their walls. It took Stephen some time to realize that his mother often went hungry so that he and his sister, Mary, could eat. He is still touched by the memory.
"My mom always let me and my sister eat first," Stephen said. "She said she had already eaten and that we could eat as much as we wanted. After a while I finally caught on to what she was doing, so I started to cut down so there was enough for my mom to eat. There was not a single day that my mom let my sister or myself go to school hungry or go to bed hungry."
A chance to live a new dream
Stephen was in 10th grade in 1989 when the United States and Vietnam signed an agreement to bring Vietnamese former political prisoners and their dependents to America. Stephen and his family were among the 34,300 Vietnamese who came to the U.S. as part of the program.
They started life in the United States with only $100, a gift from his father's close friend who still lived in Vietnam. Stephen's mother and father started working immediately to pay rent and buy food for the family.
Later, his father's friend also immigrated to the United States, and Stephen's family returned the favor by giving him $100 when he arrived. "We knew he was going through the same thing we went through," Stephen said.
During their first six months in the U.S., Stephen's family lived in Harvey, Louisiana, a suburb of New Orleans. In the summer of 1989, they moved to Arlington, where Stephen has lived ever since.
He restarted 10th grade when they arrived in Arlington. Three years later, Stephen graduated in the top 10% of his class at Sam Houston High School, then attended the University of Texas at Arlington. He worked a variety of jobs — for a jewelry wholesaler, then in health care, tradeshows and a janitorial supply chain — before finding a home at GM Financial in 2001.
He said the company always "puts our people first" and is committed to work-life balance.
"The leaders support you whenever you need to take time off to take care of your family or any urgent issues that come up," he said. "A major difference at GM Financial is that our leadership is really listening. They make you feel comfortable to talk to them. The open-door culture is really an open door."
Finding contentment in the simple pleasures of life
Stephen and his family have found contentment in the simple pleasures of life: Family, jobs, practicing their Catholic faith.
His father is retired from his job as a machinist for Pratt & Whitney and is a retired deacon for the Vietnamese Martyrs Catholic Church in Arlington. His mother, who died in 2021, taught Vietnamese to young children during Sunday school at the church.
"My parents were able to achieve their dreams here," he said.
Stephen and his wife, Jenny, have been married for more than a decade. They love traveling the world and experiencing different cultures. They are also active members of the Vietnamese Martyrs Catholic Church and are longtime members of the Saturday Mass Choir there.
"The American dream is still very much alive, but it's different for each of us," Stephen said. "My American dream is as simple as being able to go to college, have a job, get married, buy a house, travel and enjoy different cuisine, be able to help people who are less fortunate, and have enough money to retire comfortably. I am living my American dream right now and still working to fully achieve it."