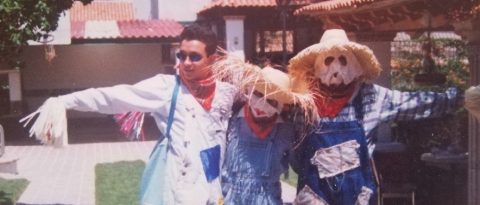 Cobblestone streets. People perched on the steps of ancient cathedrals. Laughter and music everywhere. "The vibrant colors seemed a world away from the suburban, manicured neighborhoods of Scottsdale, Arizona," says Melissa Massie, as she recollects one of her favorite childhood memories.
Melissa, a Marketing Design Manager, is one of several GM Financial employees sharing their traditions during Hispanic Heritage Month, observed from Sept. 15 to Oct. 15 since 1988.
She specifically remembers visiting her family in Mexico during Festividad de San Antonio de Padua. The festival, in honor of St. Anthony, is otherwise known as Día de los Locos and is celebrated on June 13.
"It includes a truly notable Carnaval-esque parade through town. Thousands of participants and people travel from all around the world to witness what can only be described as a spectacle in every way imaginable," she notes vividly.
She grew up visiting her family in Central Mexico once every few years. It was always an incredible shock to her system to go from her daily life in a family of five to being surrounded by dozens of cousins, and multiple aunts and uncles. She fondly remembers the warmth of their welcome, which always managed to outweigh the awkwardness she felt as a child being in a foreign place. 
One year, her Tío Fernando's family had planned to dress up as scarecrows and had costumes prepared for Melissa and her family. 
"We grabbed our baskets of candy, posed for pictures and went off to dance through the streets to the loud mariachi bands playing, throwing candy at the spectators and having the time of our lives," she said. "We were not raised bilingual, and with my green eyes and freckles I do not look Mexican, but in those moments, I belonged."
She is currently working on learning Spanish so she can feel more connected to her family, but simply reflecting on memories like these has been nostalgic and insightful.
"I look forward to visiting San Miguel during a future Día de los Locos, when I can celebrate and dance with my family on the streets and, once again, be one with them. Until then, Facebook memories will continue sending me an annual reminder of the festival with photos my cousins tagged me in from the year we were all there together with straw hats, masks and overalls, and me wearing a hidden smile from ear to ear," she admits nostalgically.
We have several team members who are taking this month to commemorate all the history, traditions and people of Hispanic descent that have helped elevate America's culture and contributed to its progress over centuries. Now is an especially good time to learn about the favorite traditions of our team members who value their ties to Hispanic culture.
We plan to feature other stories like this to highlight more voices of the largest minority population in the United States, as we honor the generations of sacrifices they've made to build their legacy. Happy Hispanic Heritage Month from all of us!