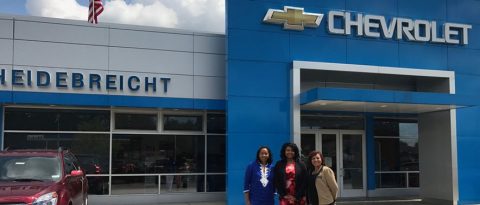 Heels & Wheels event gives women confidence in the dealership

Heidebreicht Chevrolet in Washington, Michigan wants to empower women looking to buy a vehicle. The dealership recently held its 10th biannual Women's "Heels & Wheels" Car Care Clinic to provide women with information and resources on car buying, safety and maintenance.
About 300 women attended the clinic. Attendees also got the opportunity to check out 2018 models of the Chevrolet Traverse, Equinox and Malibu and enjoy a women-focused market with local vendors.
Representatives from our financial literacy program, KEYS® by GM Financial, were on-site to provide financial literacy training. Silvia Barrera, VP Credit – CVL, and Janisha Walker, Customer Experience Strategic Initiatives Specialist, co-facilitated three back-to-back sessions.
"It was a fantastic opportunity and experience," Barrera said. "It was amazing to see such a turn out and the engagement from the attendees was unbelievable."
Walker agreed. "The audience was warm, eager to learn more and genuinely interested," she said. "It was touching to have some of the women come and speak privately on their own personal experiences with finances and the lessons they are still learning."
Both facilitators agreed that financial literacy is crucially important for everyone and appreciated the opportunity to share the program with the Heels & Wheels attendees.
"Being knowledgeable about credit, budgeting and savings can be life-changing," said Walker. "As we say in our KEYS® training, how you manage your money has a direct impact on how you manage your credit, and credit is buying power!"
Learn more about KEYS® and GM Financial's Mobility Initiative.