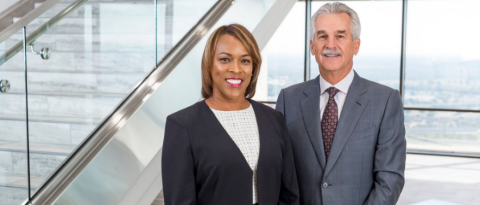 Fighting DE&I Fatigue: The Critical Need for Allyship
As I reflect on my eight years as GM Financial's Diversity, Equity and Inclusion (DE&I) leader, I'm proud of the company's many major accomplishments. And though I know it's important to celebrate our victories and keep our foot on the gas, I find myself keenly aware of a new and growing obstacle: DE&I fatigue.
It can be uncomfortable to admit, but there are those who feel left out of our inclusion efforts. People are weary of repetitive messaging; others are concerned that our efforts only benefit a particular group of professionals.
There are organizations where DE&I training and initiatives have led some to believe, "this isn't for me." They may feel undervalued or unheard during the conversation. They worry that greater diversity or inclusion will unfairly affect them. Without dismissing these concerns, I'd argue that the voices of those who feel left out are often among the most important.
A major step along the journey is allyship. Those who feel these types of programs don't benefit them should not forget that their participation and voice are vital to the mission of our DE&I work. I speak for DE&I leaders all over the country in urging people to fight that fatigue. Besides the moral good that accompanies treating everyone with respect, there are a number of documented benefits that diversity brings to the workplace for our employees, customers, dealers and communities.
I often look to research to provide more context on these issues. McKinsey's report Diversity Wins: How Inclusion Matters (2020) lists several benefits to a diversity strategy:
Companies with more than 30% women on their executive teams are significantly more likely to outperform those with between 10 and 30% women
Companies in the top quartile for both gender and ethnic diversity are 12% more likely to outperform all other companies in the data set
Companies in the top quartile of ethnic and cultural diversity outperformed those in the fourth by 36% in terms of profitability in 2019
It's evident the benefits and business case for DE&I remain strong and continue to grow year over year. Many companies now see DE&I as a business imperative rather than a business option.

I've had the opportunity to have several thought-provoking conversations with Dan Berce, GM Financial's President and CEO, on the company's DE&I journey. I found his perspective on this topic especially insightful:
"It is important for everyone to understand that DE&I doesn't just benefit certain people, it benefits the entire organization by driving more creativity and innovation in the workplace. I've seen firsthand the importance of serving as an ally for marginalized groups and how vital my voice is at the table in propelling these efforts."
I'll leave you with this: The DE&I journey does not begin and end with one solution. For any organization, it is like training for a marathon. It's getting the right shoes, dedicating time to training, eating properly or joining a running community. It is the same for growing a successful DE&I program. There isn't a single answer for it; it's a series of steps.
The tides are turning, and we can't afford to slow down or ease up as it relates to making strides in DE&I. We must continue to find ways that leverage everyone's voice and never shy away from uncomfortable conversations.