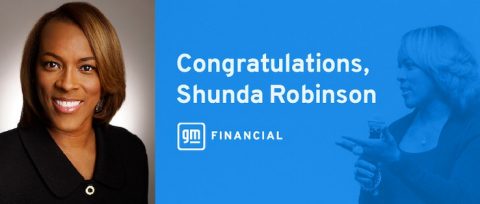 Council for Inclusion in Financial Services Presents Shunda Robinson With Diversity and Inclusion Award
As companies look to create and foster an inclusive workplace, diversity and inclusion (D&I) are more important than ever. Shunda Robinson, GM Financial's Global VP of Diversity, Equity & Inclusion, embraces this culture day in and day out. Recently, the Council for Inclusion in Financial Services (CIFS) awarded Shunda the Trailblazer Award. This award recognizes new and creative D&I initiatives that have transformed the financial services industry and surrounding communities. 
 
CIFS is an enterprise created by professionals in the financial services industry. Together, they aim to develop and sustain industrywide D&I initiatives. Through varied educational programs and trainings, CIFS addresses systemic challenges that exclude specific groups from developing financial literacy and gaining access to financial products and services.  
 
As an adviser and partner to executive leadership, Shunda has been influential in GM Financial's evolution into a DE&I innovator. Shunda has championed numerous strategies aimed at impacting GM Financial's employees, partners and community. 
 
Alongside the Trailblazer Award, Shunda has also been recognized by Diversity Global as a "2019 Diversity Champion," DiversityMBA Magazine as a "Top 100 under 50" Executive for 2019, and named a 2021 "Top 100 Diversity Officer" by the National Diversity Council.