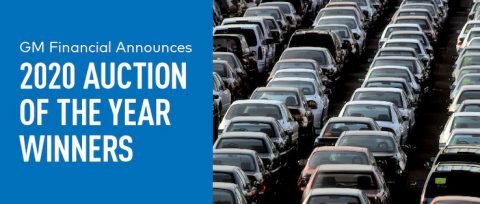 GM Financial Announces 2020 Auction of the Year Winners
GM Financial has named five regional 2020 Auction of the Year winners and a winner of Most Valuable Auction of the Year. These prestigious awards are part of GM Financial's annual nationwide Auction of Excellence program recognizing the highest-performing auction locations in 2020.
"Despite a year of uncertainty, our auction partners rose to the occasion in 2020 to support GM Financial and our purchasing dealers," said Bob Winn, Senior Vice President of Remarketing Solutions at GM Financial. "These top performers ensured operations continued as normally as possible by pivoting online, prioritizing buyer safety and keeping our vehicle sales top of mind. Congratulations to these top auctions of the year. This recognition is well earned."

Recipients were selected after reviewing the performance of each of the company's 51 auctions in retention, operational metrics, presale activities and overall auction operations.
Regional Auction of the Year Winners:

• ADESA Dallas, Hutchins, Texas
• Manheim Denver, Aurora, Colorado
• Manheim Milwaukee, Caledonia, Wisconsin
• Manheim Pennsylvania, Manheim, Pennsylvania
• Rawls Auto Auction, Leesville, South Carolina
Most Valuable Auction of the Year:

• Manheim Pennsylvania, Manheim, Pennsylvania
"It's truly an honor to be recognized again by GM Financial for delivering excellent customer service," said Joey Hughes, Manheim Pennsylvania Vice President and General Manager. "I want to especially congratulate our employees for their dedication and commitment to delivering first-class service. We look forward to continuing our valued relationship with GM Financial for many years to come."