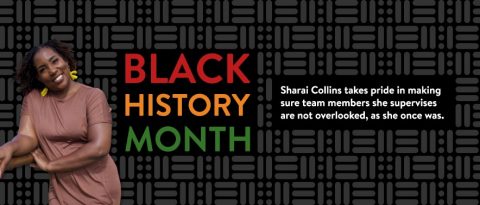 Sharai Collins Doesn't Wait for Permission to be a Leader
Before joining GM Financial, Sharai Collins was a top producer each month on her former employer's sales staff, yet she was never considered for a leadership role.
She left that company and was hired as a Lease Servicing Account Representative at GM Financial in June 2015. The following year, she was promoted to a position as a Team Leader in Collections for Commercial Vehicle Lending in Arlington, Texas.
"My previous job was very different than my experience at GM Financial," Sharai said. "My leader here said, 'You're going to go far and do very well. You're doing the work, and people are noticing.' I'm considered on the basis of my work with no preconceived notions about me."
Sharai takes pride in making sure the team members who report to her are not overlooked, as she once was. She loves helping the people she supervises develop the confidence and skills they need to be promoted, even if that means they may someday leave her team for new opportunities.
"Building leaders is a passion for me," she said. "That's the part of my job I like the most. I want them to know that I care and that I see potential in them. My job is to bring out their best."
Sharai is sharing her story in honor of Black History Month, which is observed annually during February in the United States and Canada. It is a time when the contributions of African Americans, past and present, take center stage across North America and the world.
Sharai leads in many different ways
Though Sharai has encountered obstacles to her career growth, she has never waited for permission to be a leader. She leads in many ways and invests in her community, demonstrating GM Financial's Team Members and Communities core value.
She hosts a morning prayer group via Zoom each day. She produces a podcast called Strength in the Struggle, which is available on Spotify and Apple podcasts. And she is a volunteer at Court Appointed Special Advocates (CASA) for Children of Tarrant County, whose motto is, "We speak up for children in foster care in Tarrant County."
At GM Financial, she is the chair of the NA Central chapter of the Working Parents Employee Resource Group, which she has led since the ERG started almost three years ago. In addition to her regular duties building relationships with our business customers in Collections, she is also the Servicemembers Civil Relief Act (SCRA) ambassador for the company's military accounts. In that role, she ensures that GM Financial adheres to a federal law that provides legal and financial protections for customers who are military service members.
Sharai is a single parent with two daughters and two sons, ages 20 to 24 years. Even now, "being a parent doesn't stop," she said.
Her 21-year-old son uses a wheelchair and is nonverbal. "We do everything for him," she said. Nurses visit their home daily to help care for him, and most of them have been doing so for 11 years. "We're family now," Sharai said.
'This conversation wouldn't have happened 50 or 100 years ago'
When she considers the significance of Black History Month, Sharai is gratified that African Americans have achieved real progress in the struggle for equality and freedom. She also recognizes the hard work that remains if the United States is to live up to its founding promise.
"I think it would be nice when dealing with Black history or history for people of color to no longer feel like it is a threat to anyone else," she said. "With the rise in diversity, equity and inclusion (DE&I) and conversations about being inclusive, sometimes it threatens others' view of history or the past."
She understands why some white Americans might be wary of discussing race. They too may have struggled and faced obstacles in their personal lives and jobs. But if they emphasize these points, they may fear being labeled racist or of not being seen as allies for people of color.
"It's important that we're not discounting those points of view," she said. "It's possible for two people to live in the same environment and the same space, and to have had very different experiences. I hope to see the day when we discuss slavery or racism or inequity and have space for everyone's experience to be shared."
Sharai said her ability to speak freely about these subjects — at work, on her podcast and elsewhere — is a measure of how far the United States has come in the past century.
"My grandmother is still alive, and she remembers picking cotton," she said. "This conversation wouldn't have happened 50 or 100 years ago. As a Black woman, I would not have had this opportunity. So I truly appreciate it."