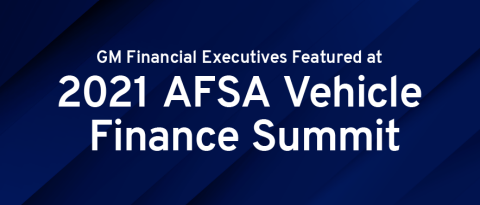 GM Financial Executives Featured Prominently at 2021 AFSA Vehicle Finance Summit
As the auto industry continues to face the challenge of the ongoing COVID-19 pandemic and changing consumer preferences, the American Financial Services Association (AFSA) recently concluded its annual Vehicle Finance Summit to address these and other challenges confronting the industry. Three GM Financial executives were prominently featured speakers during the online event.
As the AFSA 2021 Vehicle Finance Division Chair, Kyle Birch, President of North America Operations for GM Financial, convened the summit on Feb. 23 with an opening address highlighting the importance of auto finance and its role in the larger financial services industry. He also facilitated a conversation with incoming NADA Chair Paul Welser about key issues for auto dealers and lenders and joined Steve Carlisle, Executive Vice President and President of General Motors, North America, for a wide-ranging discussion on the automotive industry and the year ahead.
Dan Berce, President and CEO of GM Financial, was one of the featured top executives on the panel "The Road Ahead: A Fireside CEO Discussion." Joined by the leaders of other large auto finance companies, he offered insights about the continued push toward electric vehicles, the semiconductor shortage and impacts to vehicle inventory, and other challenges and opportunities expected in 2021.
GM Financial Global Vice President of Diversity, Equity and Inclusion, Shunda Robinson was part of the summit's "Accelerating Diversity and Inclusion" panel, which included a live question-and-answer session. The panel explored how to increase D&I among the industry's workforce, and addressed the imperative that communities of color are treated fairly and equitably in the auto finance process.
"We are very proud to be an active part of AFSA and the Vehicle Finance Summit because the ideas and concepts presented during the conference will provide a road map for the evolution of the industry as we come out of the pandemic and embrace new parameters such as increased digital selling and the proliferation of electric vehicles," said Kyle Birch.