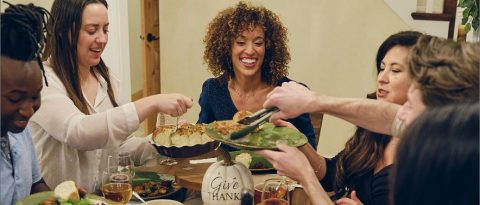 Friendsgiving Forever! Adding Extra Gratitude to the Holidays
When people are asked who they would invite to a fantasy dinner party, I'm confused when they say celebrities or politicians. I can't imagine what I would say to Madonna or Abraham Lincoln! My perfect dinner party is one with my husband and friends, and I'm lucky enough to have that every year at Friendsgiving.
For me, who's around my table has more to do with who's in my heart than who's in my family tree. My Friendsgiving is about spending time with the people who make me feel safe, relaxed and loved. People for whom I don't have to sidestep uncomfortable conversation topics or spend a ton of money on groceries and then destroy my kitchen just to get through the day. People I am sincerely thankful for.
Chosen family
Look, I love my family. Everyone around my Friendsgiving table loves their families! But that doesn't mean that family can't be complicated. Stress levels are sky high when you cram together a bunch of people who all have different expectations for the day. In my experience, there's a standard, and it's a high one: Turkey must be moist, but nobody can say the word "moist." Sweet potatoes must be both blanketed and unblanketed with marshmallows. Stuffing must remind everyone of their individual childhoods. And for the love of cranberry sauce (both canned and fresh), nobody say anything political.
It's exhausting.
My husband and I began hosting Friendsgiving in 2017 to provide ourselves with a reprieve from the stress and tug-o-war between our families. (If you have figured out how to spend holidays with one family without gravely insulting the other, tell me how.) We picked a weekend in November, invited a handful of friends, and asked them to bring something simple and delicious. I cooked up a few of our favorite dishes. (Read: carbs. I made stuffing, potatoes both mashed and sweet, and mac 'n' cheese. Bye, turkey.)
And then we enjoyed ourselves.
Instead of a day spent burning our fingers and biting our tongues, we spent several relaxed hours with our chosen family: people to whom we are deeply connected, sometimes more than our own family members. For some of the people around our table, it was an alternative to spending the holiday with family. For others, it was a warm-up for Thanksgiving proper: something sweet to hold on to when the expectations of the holiday season turned bitter.
For everyone, it was a chance to be together and give thanks for the weird and wonderful ways our lives intertwined. In attendance this past year: my best friend (whom I lost touch with after college and then randomly found again in a coffee shop in 2018) and his soon-to-be husband (who managed that coffee shop). The best man from our wedding, who grew up with my husband. My chosen sister whom I met and fell in love with while we volunteered for the same dog rescue, and who would move to Chicago the following summer with her husband and new baby. More old friends. Lots of new friends. All people who share pieces of my heart, if not my DNA.
How to Friendsgiving
For us, there's no recipe for Friendsgiving. It's what feels good that year. If someone doesn't want to cook and would rather bring a board game, that's great! If another isn't into Thanksgiving fare and would rather make something else (like the year I eschewed green bean casserole and made my mom's Pizza Surprise instead), we love it! During lockdown, we sat in a big, socially distanced circle in my backyard and drank cocktails and played a party game on our phones. There are no traditions to uphold, and so, no one to disappoint. Bring yourself and let's be happy. 
Friendsgiving forever!
This year will be our biggest celebration yet. We're combining a few smaller Friendsgivings from across our extended friendship family into one Super Friendsgiving. We all share a common thread of loving the same people and wanting to celebrate the ties that bind us. Whatever the cranberry sauce looks like (or if it even exists), it will be a day of giving thanks and celebrating the chosen family that means so much to us.
As for Abe and Madonna, we'll be sure to save them a plate.