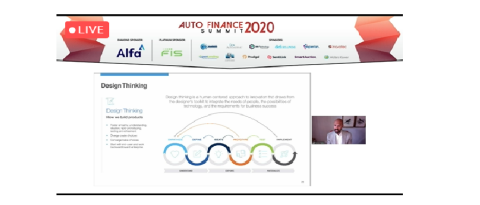 GM Financial's Senior Vice President of Digital Marketing featured at 2020 Auto Finance Summit
Digital innovation initiatives take center stage for company leader Bruno Paiva
Amid rapid change and evolution in the auto finance landscape, GM Financial key leader Bruno Paiva was among more than 20 auto finance industry experts who addressed current issues during the 20th annual Auto Finance Summit, held Oct. 20-22. This year's event was conducted virtually as a result of the COVID-19 pandemic.
As dealerships closed for multiple months during the COVID-19 pandemic, the need to offer online car-buying services increased. Since many consumers could no longer come to a dealership to buy and finance a car, the industry was forced to adopt online financing, remote services and digital paperwork.
Bruno was asked to lead the "Digital Innovation Lab" workshop on the first day of the summit. The intent of the session was to help participants develop innovative ideas for digital platforms that help mitigate the impact of the pandemic.
Following the presentation, Auto Finance Summit attendees had the opportunity to participate in an interactive discussion with live polls in an open forum and were encouraged to share their thoughts on the digital evolution and strategies lenders should adopt. Bruno was able to share his perspective around what being "innovative" really means, and how any company, large or small, can think creatively around innovation
"The summit provided a productive exchange of ideas and perspectives on important topics, helping this industry address not only the pandemic, but also the challenges of digital selling," said Kyle Birch, President of North America Operations for GM Financial and chair of the American Financial Services Association's Vehicle Finance Division Board.