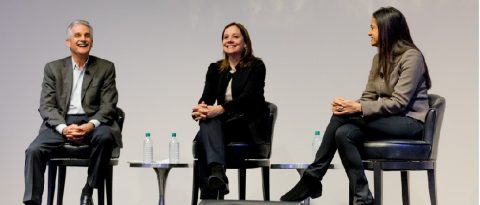 Every team member is valued at GM Financial. We take special pride in our commitment to developing and promoting women.
You'll see women making a difference and evolving our approach to the way we do business at every level of the organization. Outside the company, the same individuals are investing in our communities and giving back through charities and similar initiatives close to their hearts.

Women in leadership positions promote our corporate brand every day.

At GM:
Mary Barra, Chief Executive Officer of our parent company, became the first female CEO of a major U.S. automaker in 2014.
In 2018, Dhivya Suryadevara became GM's first female Chief Financial Officer. Her appointment as CFO made GM one of only two Fortune 500 companies that had both a female CEO and CFO.
In 2018, GM's Board of Directors was made up of at least 50% women.


At GM Financial:
Susan Sheffield, Chief Financial Officer, earned the National Diversity Council Power 50 award and is a nominee for Automotive News' 2020 Leading Women list.
Shunda Robinson, Global Vice President of Diversity & Inclusion, was selected as one of the "Top 100 Under 50" by Diversity MBA Magazine.
Candice Lester, Senior Product Manager, was named to Auto Remarketing magazine's Women in Remarketing Class.
Zahira Khan, AVP of Remarketing Solutions for Canadian Dealer Services, was named to Auto Remarketing Canada magazine's Women in Leadership Class.