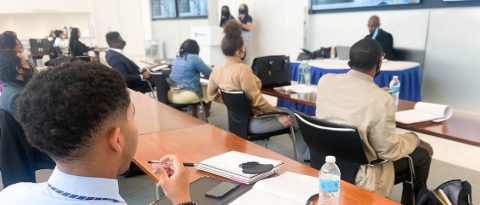 KEYS by GM Financial Makes an Impact on Communities
We're not born with an ability to budget, understand credit or make big purchases like houses and cars. But it becomes more apparent as time goes on that these skills are a requirement for most people in their lives. KEYS® by GM Financial is a financial wellness program that aims to empower people to make smarter financial decisions through free education resources.
With free courses both online and in a virtual or in-person classroom setting, KEYS works to offer valuable financial information to all learners. Part of this is through partnerships with organizations. Here are a few examples.
Young Women's Leadership Academy (YWLA)
Part of Fort Worth Independent School District, YWLA is a high school that teaches young women a college preparatory curriculum with an emphasis on math, science and technology, giving them the skills they need to be accepted to and thrive in college and beyond. KEYS has collaborated with YWLA for the last few years, providing merchandise items and inviting students of all grade levels to use KEYS Online, the digital platform that features nearly 40 free courses.
As a result, KEYS has reached many young women and helped them grow their confidence with financial information to be better prepared as future leaders.
Congressional Black Caucus Foundation (CBCF)
Since early 2021, KEYS has collaborated with the CBCF intern group with plans to continue working together in the future. The KEYS Live team presented modules covering debt management and protecting your credit with intern cohorts and fellows. A group of GM Financial leaders also answered the group's questions on a wide range of topics.
Interns were encouraged to continue their education and familiarity with the KEYS program on KEYS Online, with specific call-outs to a few modules: Creating a Budget and Credit Scores and Reports.
Historical Black Colleges and Universities (HBCUs) and Hispanic Serving Institutions (HSIs)
Whether through the Arlington Football Showdown (AFS) in Arlington, Texas, or events throughout the state of Texas and beyond, KEYS provides financial literacy to various HBCUs and HSIs. With in-person and virtual courses, event booths to answer questions directly and merchandise items to keep the momentum going, KEYS touches a variety of students and alumni at HBCUs and HSIs.
Notable colleges and universities who have been impacted by KEYS so far include Prairie View A&M University, Texas Christian University and the University of North Texas – Dallas. The program has also reached students at the Asian Pacific Institute for Congressional Studies (APAICS); Timberview High School in Arlington, Texas; E-Squared with Goodwill North Central Texas and the Young Men's Leadership Academy (YMLA).
Moving forward
KEYS will continue to grow and help shape the financial futures of young people with its content. For more information on the program or to schedule your own in-person or virtual event, visit the Financial Wellness page.