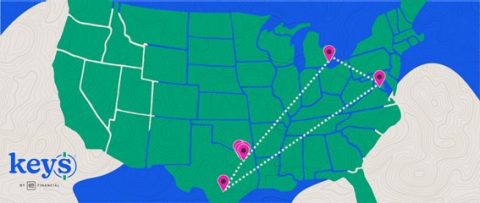 Are We There Yet: The 2022 KEYS® by GM Financial Road Trip
KEYS® by GM Financial is a financial wellness program that empowers people to make smarter financial decisions. Whether through free financial literacy courses or in-person financial wellness presentations, KEYS is committed to providing the insight and tools consumers need to boost their financial situations.
Last year, KEYS facilitators hit the open road and visited several locations where they organized classroom-style workshops.
Trips to numerous high schools highlighted KEYS' 2022 journey. By visiting schools like Timberview High School (Arlington, Texas), Young Women's Leadership Academy (Fort Worth, Texas) and Cass Technical High School (Detroit, Michigan), KEYS informed young adults about the importance of financial wellness and the intricacies required to maintain a healthy financial well-being. At these schools, students learned about:
KEYS Live also organized workshops at colleges and universities. The most notable were Prairie View A&M University, the University of Texas at Arlington, Texas Christian University, Northwest Vista College and the University of North Texas at Dallas. During these trips, GM Financial team members hosted financial literacy sessions in classrooms, student unions and other venues like college and career fairs. These events provided students a firsthand look at the KEYS curriculum and the necessary financial resources to make smarter financial decisions.
KEYS' 2022 road trip extended beyond presenting at academic institutions. GM Financial's financial wellness program provides a wealth of knowledge and serves as a resource for anyone navigating specific financial situations. Collaboration with local and national institutions/initiatives allows KEYS to reach important and distinct audiences. In 2022, KEYS was a significant component of GM Financial's participation in programs/projects like:
With 2023 underway, KEYS will continue to offer impactful experiences that expand financial literacy awareness to customers and communities. To explore more about the financial wellness program or to schedule an in-person or virtual session, visit the financial wellness page.