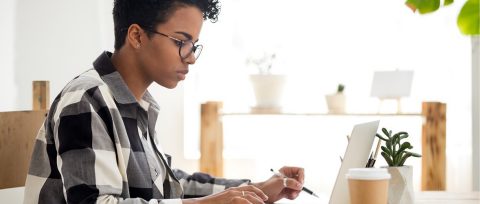 KEYS Financial Literacy Training Highlights Ongoing Relationship with Congressional Black Caucus Foundation
On Friday, July 15, GM Financial hosted a virtual interactive financial literacy training with summer interns of the Congressional Black Caucus Foundation (CBCF). KEYS® by GM Financial live sessions help educate the next generation of policy leaders and advocate for financial health and well-being through budgeting, balanced spending, understanding credit and many other financial topics covered by the KEYS curriculum.
Through formal and informal training that includes analyzing policy, learning congressional and committee office operations, and legislative processes, CBCF prepares interns for future careers in policy and business. The July training served as the second financial literacy experience for CBCF interns during their enrichment this summer.
"Financial literacy skills are critical to young leaders' success," said Akailah McIntyre, Director of CBCF's Leadership Institute.
"As they prepare to further navigate adulthood, these skills will set them apart from their peers, improving their financial outcomes," she said. "We appreciate our partnership with GM Financial and look forward to continued sessions."
The financial literacy event kicked off with the moderator asking those in attendance, "When does credit matter"?  From there, interns were given the chance to explore the building blocks of strengthening a credit score, such as understanding the three credit bureaus, prime and nonprime lending and optimal credit score ranges.
Team members from GM Financial and General Motors, including Shawn Medford, Customer Experience Strategic Initiatives Specialist for GM Financial, were on hand to facilitate the event and share their personal experiences and insights into their current roles. Rico Doss, Director of Federal Affairs for General Motors, was also in attendance to share his career journey and talk with interns about his own internship experience.
GM Financial expects to continue working with the CBCF to deliver innovative experiences that expand financial literacy awareness to consumers. Learn more about the program and explore free courses by visiting KEYS Online.