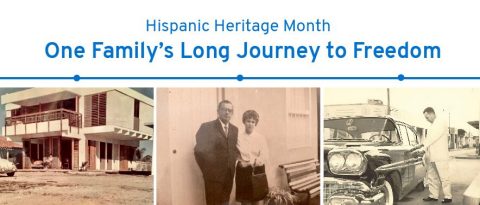 One Family's Long Journey to Freedom
As a boy growing up in Lubbock, Texas, Erik Beruvides spent each summer with his maternal grandparents, Dr. Francisco Quintero and his wife, Natty, at their home in Miami.
Erik's beloved grandfather, known to him as "Abu," shared many stories of his early life in Cuba while they fished from his boat. But only later in life did Erik learn of the hardships his grandparents and their children — including his mother — endured following the Cuban Revolution that brought about the regime of Fidel Castro in 1959.
A successful cardiologist and businessman in Cuba, Quintero worked tirelessly for more than a decade to get his young family out of that country and, eventually, to the United States. In the end, the 90-mile trip across the Florida Straits to Miami morphed into a 9,000-mile journey by way of Spain.
Erik, a Business Automation Analyst in Enterprise Services for GM Financial, fashioned his family's story into a speech, "9,000 for 90," for Toastmasters International, an organization that teaches public speaking and leadership skills that is available for team members at GM Financial.
The speech documents the family's journey and the ways in which Quintero was punished for opposing the Cuban dictator. It won several Toastmasters competitions on its way to a second-place finish at the Toastmasters Divisional competition in April.
Erik is now sharing his family's story in honor of Hispanic Heritage Month, which is observed annually in the U.S. from Sept. 15 through Oct. 15. The month celebrates the cultures and contributions of citizens whose ancestors came from Central and South America, Mexico, Spain, and the Caribbean.
"I'm a first-generation American from a Cuban background," Erik said. "I'm honored to share my grandfather's story, which is now also my story. We all have different perspectives and backgrounds, and when we hear what others have been through, we generate compassion, empathy and understanding. It creates a more inclusive work environment and helps us more genuinely care about the people we work with."
The peak of excellence
Erik begins his speech with a quote from Henry Ward Beecher, a 19th-century U.S. clergyman and abolitionist: "We should not judge people by their peak of excellence, but by the distance they have traveled from the point where they started."
Quintero's peak of excellence was in Cuba, but that was merely the beginning of his journey. He was recognized as one of the top physicians in the country, and he owned a beachfront house and several movie theaters. All of it was systematically taken from him beginning in 1959 for opposing Castro. His property was seized, he was constantly under surveillance and he lost friends to brutal acts of violence.
Many disaffected Cubans tried to cross the Florida Straits to Miami by boat in the 1960s. Many didn't survive the treacherous journey, and others crashed on the South Florida beaches. The chaos led the U.S. government to start the Freedom Flights program, which transported Cuban refugees to Miami with daily flights from 1965 through 1973. The Freedom Flights relocated an estimated 300,000 refugees to Miami.
Though Quintero applied repeatedly to the Freedom Flights program, he and his family were never approved. The Cuban government had intercepted his letters and forged replies to indicate that his application had been rejected, Erik said. His grandfather began looking for other ways out of Cuba.
Quintero discovered that he could legally apply to move to Spain, and he waited three years for approval from the Cuban government. Finally, in 1971, he and his wife and children boarded a plane and traveled 4,500 miles to Spain. There, the couple worked a variety of jobs to make ends meet, and he spent virtually every free moment studying for the medical board examination that would allow him to practice medicine in the U.S.
Two years later, Quintero's application for political asylum was granted by the U.S. On Jan. 31, 1973, he and his family traveled 4,500 miles to Miami and experienced their first taste of freedom in nearly 13 years.
'The greatest doctor in the world'
Although now residing in the U.S., the Quintero family's perseverance continued to be tested over the next few years. Natty Quintero toiled in a factory while her husband worked for 18 months as an intern at Miami's Mt. Sinai Medical Center to become a certified family practitioner.
In 1978, five years to the day after arriving in Miami, Quintero became a U.S. citizen. He opened a family practice with a friend from Cuba who attended medical school with him. His family grew to include a new generation, and his grandchildren visited him each summer.
And his story — including the trials, tribulations and celebratory milestones — became theirs.
"His story is why I am here today," Erik says in the conclusion of his speech, "to share the story of Dr. Francisco Quintero, my grandfather, my abuelo, who is, in my eyes, the greatest doctor in the world."