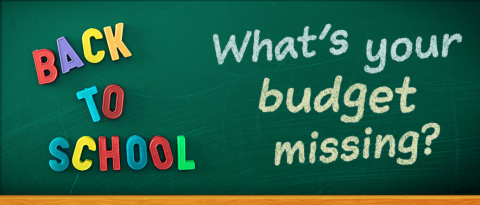 Back-to-school: What's Your Budget Missing?
Back-to-school shopping might put images of backpacks, pens and notebooks in your head. While those should be on your list, other costs can sneak up on you. And those are exactly what you want to work into your back-to-school budget, so you're (financially) ready to get back to the books.
Elementary School
It isn't all coloring and finger paint when it comes to crafting a budget for elementary-aged kids. Glue and notebooks aside, some costs don't find their way onto school supplies lists.
Carpool: Despite often being close to home, getting to and from elementary school can be a challenge. To save money, walk or ride bikes if you can. If you need to drive, be honest about how much you spend on fuel, for example, and add that to your monthly budget.
Teacher Gifts: Although optional, giving holiday or year-end gifts can slip your mind when budgeting. Something small — like flowers or a gift card — can be just as thoughtful as more expensive options. For a personal touch, consider including a handmade card from your child.
Celebratory Treats: If there's something to celebrate, it's safe to bet an elementary class will. Ask teachers for a class list so you know how many kids to plan for — that way you can think about and budget for birthday treats and Valentine's cards in advance.
After-School Activities: From youth sports to performing arts and everything in between, getting your kid involved in activities can cost a lot. See what programs are available through the school before signing up for everything in sight. Then only commit to what they're really interested in to help keep extraordinary expenses at bay.
To see what else you might be missing, download our elementary checklist.
Middle/High School
School becomes a lot more complicated when, on top of classes and homework, you're trying to have a social life, learning to drive and planning for post-graduation. Extracurricular activities can be just as expensive (if not more) than school supplies.
Driver's License: Driving takes on a new meaning when you're recently licensed. That doesn't cut costs, though. Taking driving school, having in-car lessons and paying for study materials can add hundreds of dollars to your budget. On top of that, and all the other expenses of driving, high schools typically charge for parking passes. Find a friend and have them switch off driving to cut down on fuel costs.
Dances: School dances make memories — and hilarious photos to look back on — but they are far from inexpensive. With tickets, transportation and dinner, it adds up faster than you'd think, so ensure you budget for them beforehand. Save some coin by carpooling to avoid the price tag of renting a limo, and buy tickets in advance to get a discount.
Fine Arts: Late-night choir practices, buying equipment for band and tickets to orchestra performances add up. To save, rent equipment at first. If it turns into a long-term commitment, then it makes sense to buy.
Sports: Suiting up for your team is a great way to make friends, build character and bulk up a resume. However, it isn't free. Playing a club sport can come with registration fees, equipment requirements and travel. Opting for the school sport route can be a less expensive way to play, although it's still something to account for in your budget.
Does your middle/high school checklist make the grade? Download our middle/high school checklist to compare.
College
Being a college student at any age is an investment. And when it comes to sticker shock, it's not just tuition and books.
Transportation: Getting on campus is half the battle of college. Trying to park in a lot that's somehow always full and walking to class through treacherous weather conditions makes it that much harder. Buy a parking pass to save on meters and prevent parking tickets. If you're a commuting student, leave room in your budget for tolls and the possibility of mishaps — anything from a speeding ticket to a fender bender.
Classroom Technology: Colleges use all sorts of technology to teach, which is great, but expensive. Plan to budget for apps and subscriptions to access online books and portals for assignments.
Involvement: Joining clubs and organizations takes on a whole new meaning in college. With hundreds to choose from, it's no wonder they're pricey. Some major-related organizations — whether it's student government or an engineering club — are free and look great on a resume. If going Greek is a must, look at other activities you're willing to cut to offset the expenses of rushing, initiation, membership and any travel or mandatory activities.
Housing: Moving out is a freedom unlike anything else; however, there's more to budget for than just rent. Keep add-ons — like a microwave, curtains and internet — in mind as part of your overall cost of living. Higher rent for a furnished place with everything included might be worth it, especially if you're only going to be there for a few years.
Getting schooled by your back-to-school budget? Download our college checklist to see where you can improve.
Budgeting can be challenging at any age. But penciling in these overlooked back-to-school costs can make the transition from summer to fall that much easier — for you and your wallet.