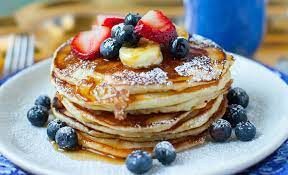 Waffles
A waffle is a dish made from leavened batter or dough that is cooked between two plates that are patterned to give a characteristic size, shape, and surface impression. There are many variations based on the type of waffle iron and recipe used. Waffles are eaten throughout the world, particularly in Belgium, which has over a dozen regional varieties. Waffles may be made fresh or simply heated after having been commercially cooked and frozen.
Key point:
Pros:
Crsip with a soft interior
Holds syrup with ease
Accompanies savory items often
Holds ice cream well due to the crispy exterior
Can top with almost anything
Cons:
For competive eaters you can't past 20 stack for the perfect click bait thumbnail
Can become dense
Requires additional tools to make
Pancake
A pancake is a flat cake, often thin and round, prepared from a starch-based batter that may contain eggs, milk and butter and cooked on a hot surface such as a griddle or frying pan, often frying with oil or butter. It is a type of batter bread.
Pros:
Soft interior and exterior
Soaks up syrup like a sponge
Can stack past 20 with ease
No extra equiment required to make
Can top with almost anything
Cons:
Becomes soggy when apply wet products
Not often accopmanied by savor items
Become dense when cold
Waffle VS Pancake Question 1
Waffle VS Pancake Question 2